New Mexico State University unveils officially licensed beer
In one week, millions of college football fans around the country will be preparing for their schools' first games of the season. For many of these folks, that means enjoying some of their favorite beer while watching their favorite teams play.
But now, football fans at New Mexico State University will be able to enjoy the official beer of their school: a new brew called Pistol Pete's 1988, or just '88 for short.
On Thursday, NMSU in Las Cruces unveiled the officially licensed beer, which is being produced by the Bosque Brewing Co. of Albuquerque. The beer itself will even be decked out in cans featuring the official colors of the New Mexico State Aggies (pending regulatory approval), in addition to being named after the school's mascot and the year of its founding.
TAPROOM OWNER CLOSES SHOP AFTER ACCUSATIONS OF BEING A NAZI SYMPATHIZER
"The thing that was attractive to us was … there's a revenue source here, we don't have to work at it [and] there's very little risk on the part of the University," said Garrey Carruthers, the chancellor and president of NMSU. "But most of all, we're licensing to a company that was formed by Aggies. And we all encourage entrepreneurship in New Mexico."
Bosque Brewing's involvement was a big plus for many at the unveiling event. Three of the five owners are NMSU alumni, and have been lifelong fans of the college. One Aggie even felt that since the beer was created by alumni, it makes it "nearer and dearer" to her heart.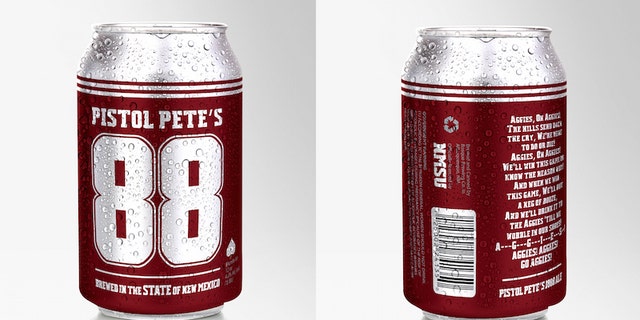 "We're really excited about that. As a lot of people know I grew up in Las Cruces," said Gabe Jensen, one of Bosque Brewery's owners. "I graduated from NMSU; I grew up a die hard Aggie fan. Just this partnership, I've been smiling [since] May, thinking, 'Wow this is so cool.'"
Jensen also said he was surprised by the packed taproom at the unveiling; word had only got out 24 hours before that they would be hosting the event. However, he's almost more excuted to get to an Aggie home game to see people enjoying his beer.
"I can't wait to go to an Aggie game and drink my own beer," said Jensen.
MAN CLAIMS HE FOUND TWO GECKOS IN HIS HEINEKEN
The beer's inspirations come from Jensen's college days. Jensen said that, when crafting the beer, he thought about what he used to drink when he was an NMSU student. With that in mind, he co-designed the blonde ale to be interesting enough to please a craft-beer connoisseur, but easy-drinking enough for casual beer drinkers to enjoy as well.
"I think it's about time. We have one of the coolest fight songs in the country," said Nicole Sack, a NMSU Athletics Department employee, in reference to a fight song lyric about "buy[ing] a keg of booze and we'll drink it to the Aggies."
"And it's great to get our brand, the school's brand, all over the state of New Mexico."
There are only five officially licensed college beers in the country, according to NMSU. The first was Ragin' Cajuns of the University of Louisiana at Lafayette, and there's also Bayou Bengal Lager at nearby LSU. Those schools also teamed up with local brewing companies to create their product.
FOLLOW US ON FACEBOOK FOR MORE FOX LIFESTYLE NEWS
Right now, Pistol Pete's 1988 is currently available in Bosque Brewing's Las Cruces Taproom across the street from NMSU. It will also be available at the school's first home game at Aggie Memorial Stadium on September 16, before expanding to thousands of stores across New Mexico in early 2018.