McDonald's customer spotted selling Szechuan sauce-dipped McNuggets for $10 apiece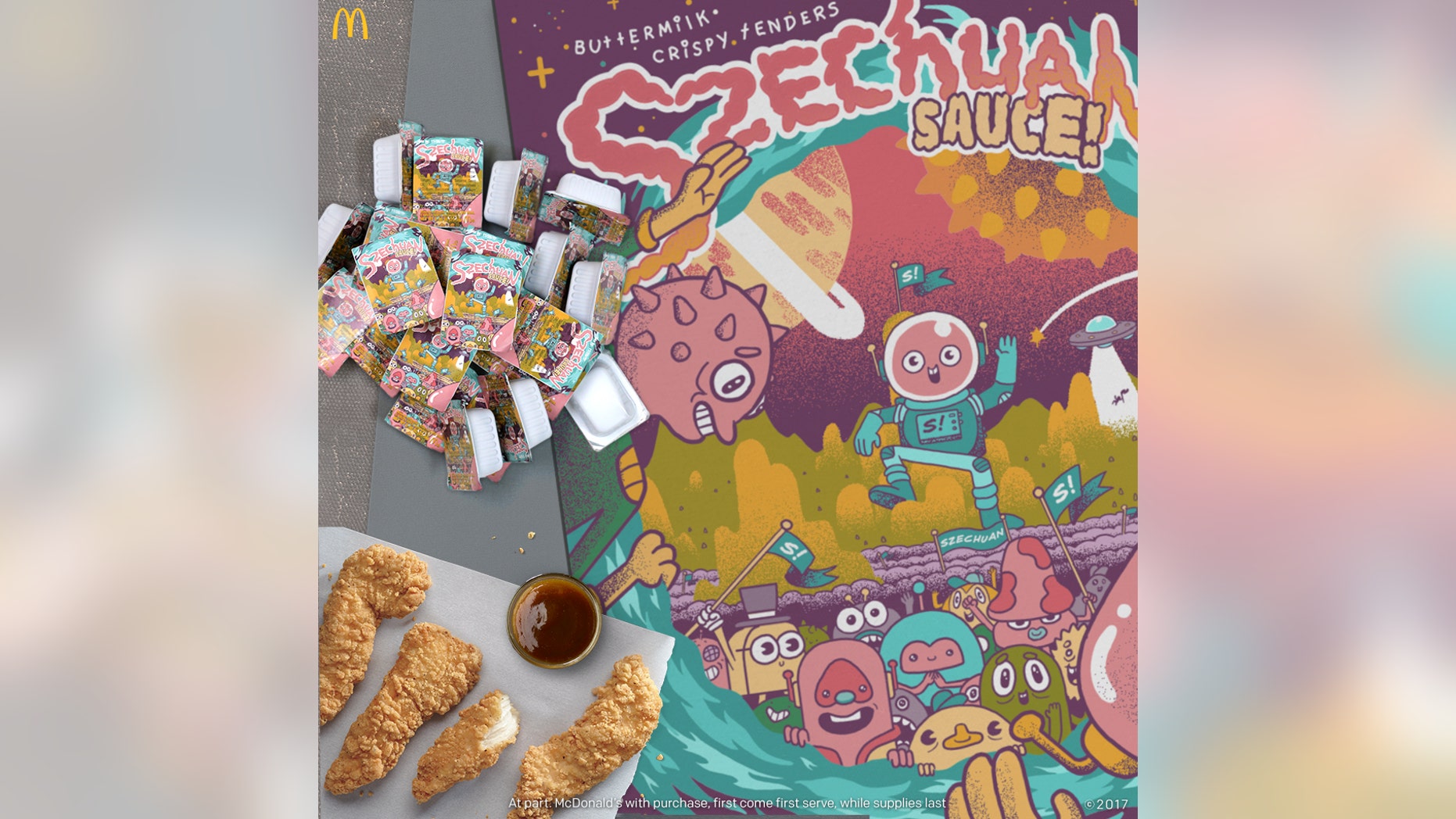 Fast-food fans are apparently going to great lengths to get their hands on a rare McDonald's dipping sauce — even if it means paying a huge mark-up.
In a YouTube video posted to Reddit shortly after McDonald's began offering its Szechuan McNugget sauce, one McDonald's customer who was lucky enough to get a packet of the plum-flavored condiment can be seen selling single nuggets dipped in the Szechuan sauce for $10 apiece.
Holding a single one-ounce portion of the sauce in his hand, the enterprising young man handed out pre-dipped nuggets amid a mob of onlookers, some of whom can he heard confirming the price with the seller.
FANS CALL FOR MCDONALD'S BOYCOTT OVER SZECHUAN SAUCE SHORTAGE
McDonald's Szechuan Sauce officially returned to the restaurant's menu on Oct. 7 after first debuting nearly 20 years ago as part of a promotion for Disney's animated film Mulan — though the rerelease didn't go as smoothly as anticipated.
Interest in the long-discontinued sauce was first piqued in April 2017, after a Cartoon Network series called "Rick and Morty" made the condiment a plot point: Rick, a mad scientist-type character, professed his love for the sauce, and cited it as the impetus for all his actions. Fans then took to Change.org to organize a petition for McDonald's to "bring back" the sauce.
A PACKET OF SZECHUAN SAUCE JUST SOLD FOR A CRAZY AMOUNT ON EBAY
McDonald later caved to demand, and announced that the cult-favorite dipping sauce would be available for one day only — along with a special commemorative poster — at participating locations.
However, McDonald's neglected to mention that each location would only have a very limited number of sauce packets to hand out, with customers reporting that McDonald's only allotted 20 for each store. In some cases, the clientele became so rowdy after learning of the shortage that police were called to the restaurants to disperse crowds.
Some even called to boycott the fast food restaurant over the issue, using the hashtag #BoycottMcDonalds to gain support on Twitter.
McDonald's has since vowed to "make this right" in a statement released on Sunday, and hinted that McDonald's Szechuan sauce might become a permanent offering at McDonald's locations everywhere this winter.
FOLLOW US ON FACEBOOK FOR MORE FOX LIFESTYLE NEWS
Meanwhile, according to eBay, sellers are also trying to fetch upwards of a thousand bucks for a single packet of the sauce, though it's unclear if any have actually sold for as much.
A bottle of the sauce, which became available earlier this year during a special promotion, is also said to have fetched a bid of $14,700 on eBay.