Houston high schoolers apologize to Whataburger for food fight that 'destroyed' restaurant
The students from Clear Brook High School in Houston are issuing an apology – and a goody bag filled with gifts –  to the Whataburger location that they and a rival school covered in trash during a massive food fight on Friday night.
The incident began shortly after a football game between the Clear Brook Wolverines and the Falcons from nearby Clear Lake High School, the former of which lost 28-6. Students from both schools were inside the Houston Whataburger when the food fight broke out, with some of the teens tossing trash, soft drinks and burger scraps across the dining room.
PICS: WHATABURGER-LOVING COUPLE DECORATE HOUSE LIKE RESTAURANT
The principal of Clear Brook later contacted the students' parents to inform them that the kids felt remorse for their actions, and wanted to make it up to the restaurant staff, KTRK reported.
"I am sure you have all heard about the poor choices some of our students made last Friday night at our local Whataburger on El Dorado," Clear Brook Principal Michele Staley wrote in an email, per the outlet. "Many of our students are saddened and embarrassed and want to do something nice for the employees."
To that end, a senior from the school has been collecting gifts to present along with their formal apology.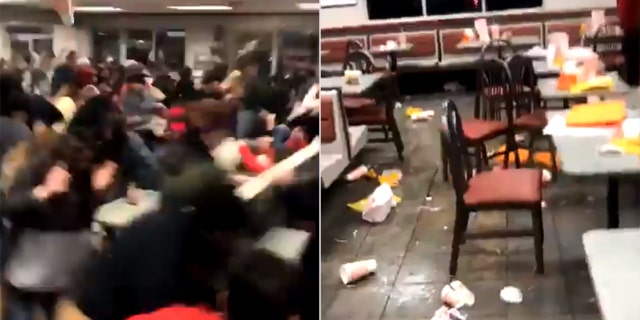 "Everyone makes mistakes, but it's how we react to those mistakes and learn from them that really matters," another student wrote in part, in an apology letter to Whataburger shared with KTRK.
FOLLOW US ON FACEBOOK FOR MORE FOX LIFESTYLE NEWS
Oddly, this isn't the first time a Whataburger is at the center of a massive food fight. In 2013, rival high schools in San Antonio left the restaurant covered in food and trash following a game between Brandeis High and O'Connor, KENS-5 reported.