Healthy eating is matter of survival for this chef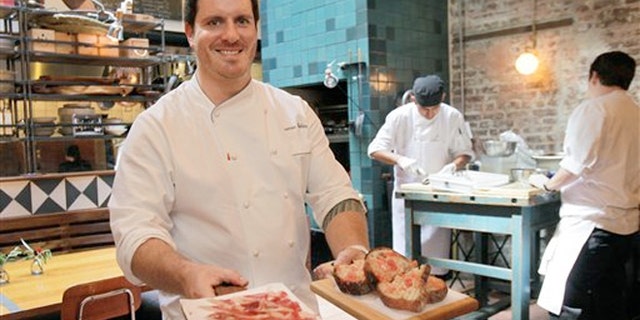 Looks can be deceiving. Take Seamus Mullen.
In his signature work shirt and with his youthful demeanor, the 38-year-old chef looks the picture of ruddy health — like he'd just hopped off a tractor at the Vermont farm he grew up on — as he leads a visitor around Tertulia, his year-old, red-hot Spanish eatery in Greenwich Village.
But it was only three months ago, Mullen recalls, that he lay in the hospital with a fever close to 106, battling bacterial meningitis, afraid he wouldn't make it through the night. Doctors told him his immune system had likely been compromised by medication he was taking to combat rheumatoid arthritis, a disease he has struggled with for five years.
"I was very lucky to survive that night in the hospital," Mullen says.
These days, it's become the fashion for top chefs to pay lip service, at the least, to the concept of healthy eating. For Mullen, who suffers pain every day of his life, it is literally a matter of survival.
That's because he believes that what he eats can determine whether he can stand on his feet, or move his aching hands. At one lowpoint after his 2007 diagnosis, he thought he wouldn't be able to walk, let alone cook again. Gradually he discovered that there were certain foods that reduced inflammation in his body. He calls them "Hero Food," which also is the name of the cookbook he released in April.
At the same time, his first solo eatery, Tertulia, inspired by the cider taverns of northern Spain, has become one of the most sought-after casual tables in town, not to mention a celebrity haunt (on one night Beyonce, Jay-Z, Gwyneth Paltrow and Chris Martin all popped in together). It's also a place where he seeks to practice what he preaches, using fresh, unprocessed, healthy ingredients to create powerful tastes.
It's a neat balance: prescribing healthy food in his book that tastes fabulous, and creating fabulous food at his restaurant that's also pretty healthy. Mullen feels he has a duty to try it.
"There's a certain responsibility I have as a restaurant owner and a chef," he says. "I'm an ambassador for cuisine — I want to represent it as best I can. I don't do silly things like deep-fried foie gras doughnuts. Everything in moderation."
"Food should be joyful," he adds. "And the joy of eating good food can be very empowering — knowing it's doing the right thing for you and your family."
___
For a guy who's famous for Spanish food — or more precisely, as he prefers to say, food imbued with the DNA of Spain — Mullen has an unusual resume.
First, there's the un-Spanish name: Mullen grew up nowhere near Spain but in the tiny town of Vershire, Vt., on a farm. The family raised its own meat, and for Seamus as a young boy, it was not unusual to see, for example, "My mom breaking down whole pigs on the kitchen table."
He knew he loved cooking, but early on, odd jobs at restaurants didn't exactly inspire the young Mullen. "I worked at a lot of crappy pizzerias," he says. At one, they called him "slave" and made him drive the delivery tuck at age 13.
He did love Spain, though, a relationship that began with his father listening to Berlitz tapes while driving Seamus to school, and was solidified during a high-school exchange program in Burgos.
After college in Michigan, Mullen did a bit of everything, including driving a bus. He was drifting, and it took his beloved grandmother, Mutti, now 91 and his primary caregiver for much of his childhood, to set him straight.
"You need to get your act together," she told him sternly during a wine-tasting trip to Sonoma. "Do what you enjoy doing. You are happiest when you cook." She's also the one who took him to Chez Panisse, Alice Waters' groundbreaking restaurant in Berkeley, Calif., where, Mullen says, "I learned that a simple tomato salad could be something that's monumentally delicious. The total opposite of those awful tomato salads in the pizzerias I'd worked in."
After kitchen jobs in San Francisco and New York, Mullen was 30 when he returned to Spain to learn the cuisine firsthand, first in unpaid apprenticeships, then making a meager living. Back in New York, he yearned to introduce eaters to the Spanish cuisine he loved — not the trendy "molecular" gastronomy, but fresh traditional food — like his beloved fried anchovies. With a partner he opened Boqueria, a tapas bar. It was a hit.
But eight months later, in 2007, Mullen, overworked and exhausted, woke up in excruciating pain. It turned out his hip was full of fluid, pressing on his sciatic nerve. A specialist finally determined the cause: rheumatoid arthritis.
"I felt like the rug had been pulled out from me," he says now. "Once I learned what it was, I was afraid I wasn't going to be able to cook again."
While coping with disease, Mullen opened a second Boqueria with his partner. Then in 2009 he ventured into celebrity chefdom, making the final three contestants on the Food Network's "The Next Iron Chef," before his symptoms struck again at the worst possible time. He was eliminated and came home in a wheelchair.
___
Enter Hero Food, the 18 ingredients Mullen discovered could really make a difference in fighting his disease. "It was empowering to know there was something I could do about it," he says.
Take parsley. Mullen learned that because of the folate it contains, a handful mixed in the blender with lemon juice and an apple could help reduce the inflammation in his hands, a constant scourge. And olive oil, he found, was not only good for the heart, but served him well as an anti-inflammatory agent.
Mullen says the book, which took him three years to write, was motivated by his inability to find anything like it — a health cookbook with delicious and flavorful recipes.
"I went out and bought them all," he says. "None were written by chefs. I would read them and think, 'Could I ever eat this stuff?'"
Mullen is not alone among chefs to speak about healthy eating, though usually the issue is weight and diabetes — both Paula Deen and Art Smith, for example, have disclosed in the past few years that they have type 2 diabetes.
But Mullen is presenting a different approach to healthy eating, notes Meryl Rothstein, a senior associate editor at Bon Appetit magazine — one that is useful not only for those who suffer from the same illness.
"He's not talking about a low-fat or no-carb diet," she says. "Rather he's working with building blocks, what ingredients can make you feel better, what ingredients work well. It's, 'OK, if I eat really good eggs and cook them in really good olive oil, it's healthy and it's wholesome.'"
Rothstein notes that you wouldn't necessarily look at the menu at Tertulia and say, this is from a guy who's written a health cookbook. But there's a concept linking the two, she says, and that's "quality ingredients, at home or out."
___
Leading a visitor around Tertulia one morning, Mullen makes it clear he decorated the place with a rather obsessive attention to detail. The walls, a mix of wood, plaster and brick, reflect the style of Asturias, the region of northern Spain he loves; the door is a Spanish smoky blue. At the bar, barrels are filled with wine on tap. The vaulted ceiling, the sand tiles, the visible electric lines along the wall, even a mailbox outside — all evoke rural Spain.
The food is an eclectic mix. Along with favorites like grilled octopus with fingerling potatoes or arroz a la plancha — rice, snails, wild mushrooms, celery, fennel, and Iberico ham — a meal can include unfamiliar ingredients like kokotxas, the fish muscle that controls the gills, or percebes (goose barnacles), or cod tripe.
A few days later, on a summer evening, people are filing in at 5:30. By 6:00, dinner is in full swing, with foodies coming in after work, eager to beat the late-evening rush. They may be sampling Mullen's starter of smoked pig cheek and quail eggs, or his tosta huevo roto — crushed egg and potato, with Iberico ham. They may move on to a lamb roast or a salt-cod brandade, ending with a refreshing dessert of peaches, fresh ricotta, walnuts and honey.
"It's all come together," Mullen acknowledges of the many accolades he's received.
The success obviously fuels him, as much as he finds himself still aching every morning. In fact, only this week, Mullen says, he's been suffering a flareup. He had decided, after that recent scare that landed him in the hospital, to take only pain-management or anti-inflammatory medication, not immunosuppressive drugs, and to focus on lifestyle and especially his Hero Food.
And that food, he says, gives him relief both physically and spiritually.
"Joy is the opposite of stress," Mullen says. "And nothing gives me more joy personally than seeing people enjoy food."