Guy Fieri fires up the high-seas with new barbecue joint
Guy Fieri's newest restaurant might not have any Donkey Sauce—but it does have four different types of barbecue dips to satisfy any regional palate.
Pig & Anchor Bar-B-Que is the spiky haired chef's second venture with Carnival Cruise Line. This spring, the first location opened on the Lido Deck of the Magic and this winter, the line will expand the concept to the 3,954-passenger Vista, the line's newest and largest ship with its own brewery onboard.
Fieri's barbecue joint offers meats cooked "low and slow" over hickory and cherry wood—all prepared on the ship. Fire and cruise ships don't typically mix and it's the first time a major cruise line has ever used a traditional smoker on deck.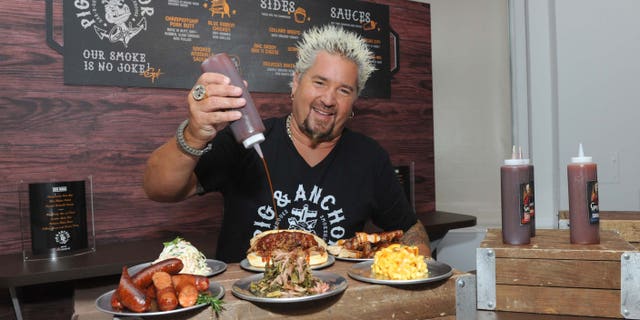 But the chef was initially hesitant about embarking on a mobile barbecue venture.
"I said you guys [Carnival] couldn't do barbecue on the ship because you don't have a smoker. A smoker means you have to have a live fire and you gotta be burning this wood," Fieri says of the challenges to making real barbecue on a moving vessel. "Everything on the ship, as people may or may not know, is electric because you're out at sea."
Carnival approached Old Hickory, one of the world's biggest commercial barbecue equipment suppliers, to create a custom smoker that wouldn't smoke up the ship. After a few months in development, the revolutionary sea-smoker was born.
Now open from noon to 2:30 p.m. on Magic sailing days, Pig & Anchor features a simple but satisfying menu that includes dry-rubbed Blue Ribbon Chicken, smoked Andouille sausage, and Championship Pulled Pork Butt sandwiches. Sides include comfort classics like a bacon-topped "Mac Daddy Mac n Cheese," "Old Skool Potato Salad," and "Scratch-Made Slaw."
Fieri, who says he'd never been on a cruise before Carnival approached him about designing a restaurant concept in 2011, now has signature Burger Joints on more than a dozen ships. The cruise line says Fieri's restaurants serve more than 1,000 burgers per ship daily. 
Despite the overwhelming success on dry land and at sea, the spiky-haired star remains relatively humble about his empire.
"I'm not a celebrity chef. I'm a chef that happens to have television shows and a chef that happens to do media," chides Fieri who says he still just loves to cook.
But he also loves to eat. After 24 seasons of the hit Food Network show "Diners, Drive-Ins and Dives," Fieri has visited nearly 1,000 restaurant locations across the country.
And though his restaurants have been the victim of a couple negative reviews, the chef remains positive about the state of industry today.
Sometimes "the Yelping can get a little out of control," admits the chef. But on the flipside, Fieri says review sites can be a good place to start if you're visiting a new city.
The absolute best way to find decent food in a new spot? Ask the locals.
"I talk to everyday people," says Fieri. "Get off the beaten path…If you want to find those mom-and-pop joints, those funky little places, just ask around."
If you're a fan of Fieri's food, you don't have to swim to a Carnival ship to get your hands on some pork butt or bulky burgers. The Food Network star owns eight restaurants with locations in Las Vegas, New York City and Cancun, Mexico.