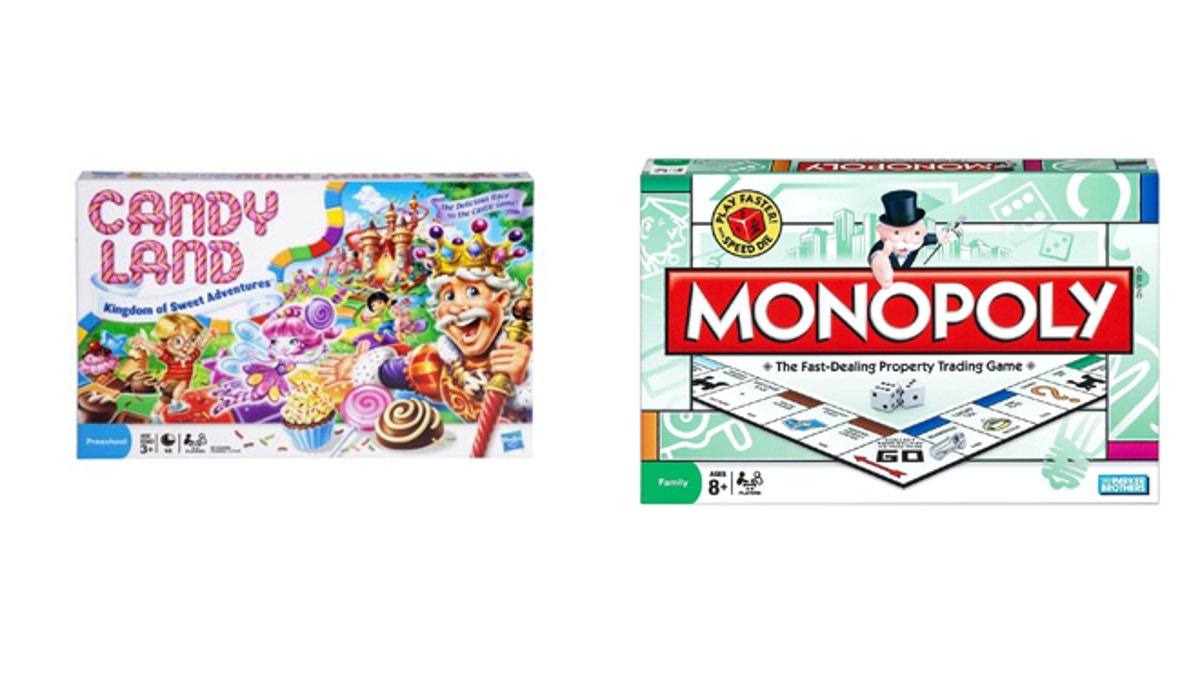 I don't know about you, but at the Borgognone house, family members young and old love board games, and designated board game nights are a time-honored tradition. We're talking Scrabble, Scattergories, The Game of Life — all the classics.
A few rules do apply: Monopoly is reserved for blizzards, blackouts, and tornados; Candyland is only to be played if there is a fantastic tiara available; and Battleship is just a game, not a real battle.
But gearing up for game night is no easy task, as there are proper foods that go along with each game. Matching the menu to the game is not only a fun idea, but these foods are also sure to encourage increased brain power — Cranium anyone? — and interesting conversation — hello, Twister.
Candy Land
The dessert train should stop at your house on game night if you're playing Candy Land. Decorate a table with all of the sweets fit for a queen an ice cream sundae bar and perhaps a color-coded candy buffet filled with lollipops, licorice, gumdrops, mints, brittle, and toffee. For an added activity, dare we suggest making gingerbread houses? There's no such thing as too much sugar on a Candy Land night.
Clue
There are two ways to create a menu based off the classic mystery game. First, you could serve filled foods — ravioli, pierogies, empanadas, etc. — and have guests guess the flavor. Or, you could create a menu based off the characters, serving dishes that are a riff on their names:
Colonel Mustard: Pastrami on rye with grainy mustard
Miss Scarlett: A red wine tasting bar
Professor Plum: Plum-filled sandwich cookies
Mrs. White: Mashed potatoes, rice, dumplings, etc.
Mr. Green: Risotto verde, linguini with pesto, arugula salad, green beans
Mrs. Peacock: Blueberry pie
Scrabble
When it comes to Scrabble, it's all about words. Create a table of alphabet-inspired snacks to get the brain flowing. There are quite a few letter-infused snacks: alphabet soup or pasta, Alpha-Bits cereal, ABC tater tots, Scrabble-edition Cheez-Its, and alphabet pretzels. Pair the tots with various sauces and the Cheez-Its with dips to make them even more delicious.
Monopoly
Welcome to the boardwalk, ladies and gents. On this menu were serving up classic summer-at-the-beach fare: corn dogs, soft pretzels, fresh-squeezed lemonade, popcorn, and cotton candy, all of the classic bites you can find in Atlantic City, where the game was born. If you're not into that idea, create a lowbrow-to-highbrow menu, to match up with the four sides of the board, from the bad neighborhood to the fancier side of town. Start with cheap eats like pizza and chicken fingers and work your way around until you're having steak, lobster, and champagne. Don't worry, you can space out the courses — there's plenty of time since its the longest game to play... ever.
Jenga
Serve stackable foods, it's only fitting. We're thinking sandwiches, grilled cheese, mozzarella sticks, chicken fingers, french fries, etc. In addition to the Jenga game, hold a stackable tournament to see how many steak fries you can stack before they all come tumbling down.
See even more game night menus here
More from The Daily Meal

36 Things to Do with Candy Corn

10 Brilliant Food-Inspired Kids Halloween Costumes

7 Delicious, Nutritious Alternatives to Potato Chips

Halloween Candy: The Best and Worst Choices for Your Smile