America's best family-friendly restaurants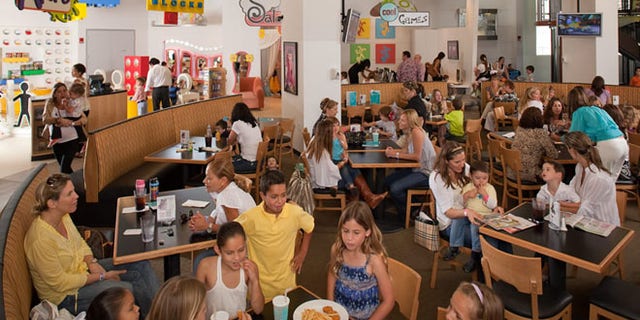 "Sadly, we don't dine out much anymore."
Parents utter this phrase a lot. Yet, having a little squealing bundle of joy shouldn't relegate you to a lifetime choosing between meals at home or at unhealthy chain restaurants. Many excellent restaurants find creative ways to meet the families' needs, whether providing entertainment for little ones or appealing to budget-minded or health-conscious parents. Ready your strollers and start up the minivan; here are some of the nation's best bets for family-friendly dining.
Now, what makes a restaurant "kid-friendly"? Let's face it; some otherwise fine establishments have no patience for vivacious young ones. Parents gravitate towards eateries where the waitstaff love kids, or at least know how to channel youthful energy into coloring books or other distractions.
Specialists such as Los Angeles' Giggles N' Hugs build their reputation on keeping children amused and well-fed, while high-end resort restaurants such as Makahiki at Hawaii's Aulani, A Disney Resort & Spa, strike a delicate balance between pleasing parents and kids.
The entertainment factor distinguishes restaurants such as Downtown Aquarium, dominated by a ginormous fish tank, or Mongolian grill Fire & Ice, renowned for its chefs' culinary showmanship.
There's no reason for families to hide at home; most restaurants could easily accommodate children with nothing more than crayons and a smile. Check out how eight of the top family-friendly restaurants work their magic.
Makahiki at Aulani, A Disney Resort & Spa — West O'ahu Hawaii
The relaxed elegance of Old Hawaii reigns at Aulani, A Disney Resort & Spa, thoughtfully designed to please both parents and kids. Its Disney Character brunch at Makahiki — The Bounty of the Islands will delight youngsters and tantalize everyone's palates with a varied international brunch buffet. For more information, click here.
Giggles N' Hugs — Los Angeles
Giggles N' Hugs, a "Children's Restaurant & Playspace," allows kids to work up an appetite clambering around dream playgrounds indoors and outdoors. With extensive adult and kid menus and fresh ingredients, certified organic when possible, this eatery even enjoys popularity with Hollywood families. For more details, click here.
Cool-de-sac — Miami and Doral, Fla.
Hip, tech-savvy Cool-de-sac not only serves your kids healthy nosh, it also feeds their minds. The Discovery Station teaches kids about science, and plentiful arts activities and interactive games spur their imaginations. To learn more, click here.
The Moxie Spot — Brooklyn, N.Y.
Sing-alongs, movie nights, bingo, storytime, arts and crafts, cooking classes, mini-camps — you name it, The Moxie Spot organizes it. (There's a kids' fee, however.) Known for "Family Food & Fun," this neighborhood mainstay offers free kid combos nightly with purchase of an entrée off its cosmopolitan menu. To learn more, click here.
Downtown Aquarium — Denver
A stunning 50,000-gallon aquarium towers over diners at Downtown Aquarium. If 100 species of tropical fish aren't enough to distract kids through a meal of sea-themed basics (mini-cheeseburgers are dubbed "Barracuda Burgers"), mermaids put on an underwater show, too. For more information, click here.
Fire & Ice — Boston
The deft chefs at Mongolian grill chain Fire & Ice prepare your meal in front of you. They wow kids and adults alike with an unbeatable culinary show, flipping fresh foodstuffs and setting them on fire with precision and flair. Don't try this at home. To find out more, click here.
The Pilsener Haus & Biergarten — Hoboken, N.J.
The Pilsener Haus & Biergarten serves delicious Czech and German specialties in a casual, open-air setting. Theres space for children to move about, and the boisterous atmosphere lets them make all the noise they want, particularly on the wildly popular Family Fun days, featuring kid-friendly live music. Want to learn more? Click here.
Park Chalet — San Francisco
Park Chalet in Golden Gate Park transports indoor dining to the great outdoors (and at reasonable prices). The restaurant opens onto a rolling green, where children can run around and where diners can lounge about on blankets, listening to the occasional live band. To find out more information, click here.
Click here for more from The Daily Meal:
Who Makes the South's Best Fried Chicken?
19 Ice Creams You've Never Tried
America's Best Doughnuts
8 Ice Pop Flavors You Didn't Know Existed
Over-the-Top Burger Toppings