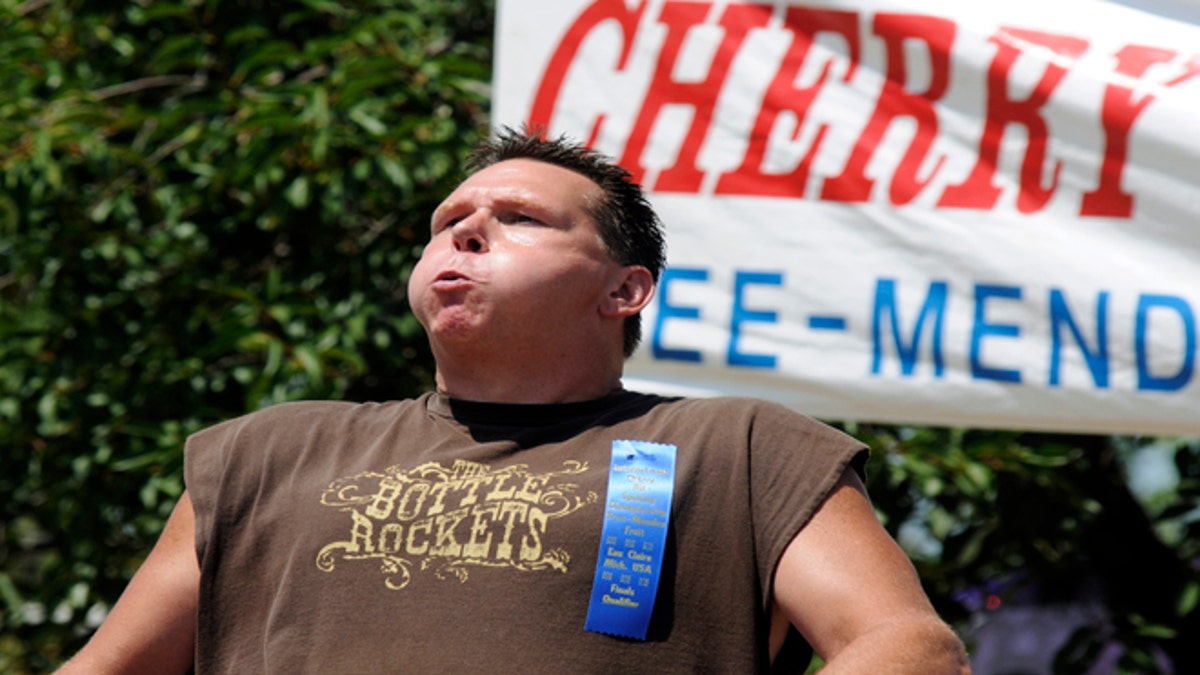 EAU CLAIRE, Mich. – Ronn Matt's wife encouraged him to enter the annual International Cherry Pit Spitting Championship in southwestern Michigan on Saturday.
It's a good thing she did.
The 46-year-old Chicagoan pulled a big upset, winning the contest in his initial try and becoming the first champion not named Krause or Lessard in 20 years.
Matt spit a pit 69 feet at Tree-Mendus Fruit Farm near Eau Claire, just north of the Indiana border.
Owner Herb Teichman launched the tournament on a lark nearly four decades ago. It now attracts competitors from the U.S. and beyond, and has six divisions, including dignitaries.
Since 1992, members of the Krause and Lessard families have dominated the event.
Brian "Young Gun" Krause of Dimondale holds the world-record spit — more than 93 feet — and had won the past two years. But the 34-year-old finished fifth Saturday with a spit of 52 feet, 10 inches.
Krause's father, Rick "Pellet Gun" Krause, came in second with a spit of 61 feet, 2 inches. And Brian Krause's brother, Matt, earned a third-place finish with his 60-foot, 11-inch spit.
The tournament typically is timed to the start of the cherry harvest, but competition spokeswoman Lynne Sage said that due to an unusually warm spring, it's already complete. Saturday's installment was held in sweltering temperatures.