Anthony Bourdain reveals 'disgusting, shameful' fast-food secret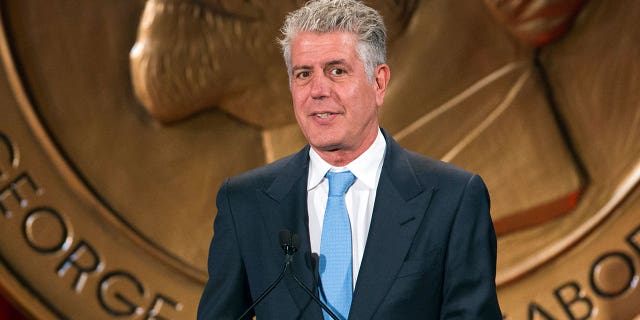 With shows like "No Reservations" and "Parts Unknown," Anthony Bourdain has built himself a solid reputation as a connoisseur of worldly cuisine, home-cooked meals and fine dining establishments.
But if his recent remarks to the Boston Globe are any indication, he really just craves fast food at the end of a long day.
ANTHONY BOURDAIN OFFERS TO 'REARRANGE' DAVID DUKE'S KNEECAPS
After admitting that he often succumbs to a "perverse desire" to try the spaghetti bolognese at every hotel he stays at ("if only for the comedy value"), Bourdain revealed that his true guilty pleasure is one of Popeyes' signature sides.
"But my real guilty pleasure — my really disgusting, shameful pleasure — is the mac and cheese at Popeyes fried chicken," he told the Globe.
Bourdain reportedly feels enough shame about his Popeyes habit that he often hides under a hoodie before entering the restaurant.
"I always get nailed," said Bourdain. "People are like, 'Dude, I'm going to put this on Instagram.'"
NYC FOOD CRITIC BLAMES BOURDAIN FOR NYC'S FOOD TRUCK 'MENACES'
Bourdain's biggest fans probably wouldn't be too shocked about the celebrity chef's reveal. He basically stated the exact same thing in an interview with TheWrap in 2013, adding that Popeyes also has "decent biscuits." And when he's out on the West Coast? "Whenever I'm out on the coast I'm always grateful for In N Out," he told the site.
Bourdain's fast-food cravings aren't only relegated to Popeyes or the occasional In N Out, either. In 2015, he admitted to being a fan of KFC's mac and cheese. That same year, he also appeared in an episode of "Parts Unknown" shot in Charleston, S.C., in which he described a buttered, syrup-drenched pecan waffle from Waffle House as being "better than the French Laundry, man." (Video below contains strong language.)
FOLLOW US ON FACEBOOK FOR MORE FOX LIFESTYLE NEWS
Bourdain also made headlines for an altogether different revelation earlier this year, when he confirmed to the New York Times that he carries around "sneaky credit card that turns into a knife" whenever he travels.