All-you-can-eat pizza festival slammed for pizza shortage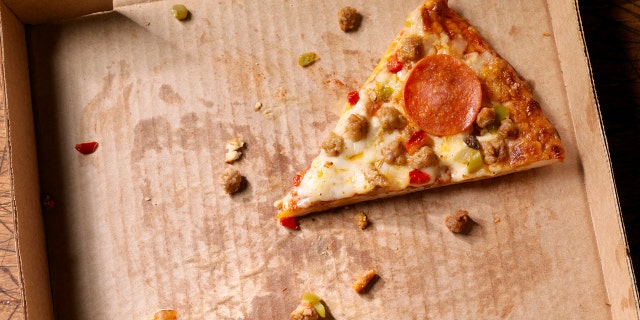 Furious attendees of an all-you-can-eat pizza festival are giving organizers a pizza their mind after the event failed to sufficiently deliver the promised goods.
On May 12, flatbread lovers at the Notting Hill Pizza Festival in London were dismayed to be left waiting for hours after an oven broke, BBC reports.
Guests had forked over $20 in entry fees for "unlimited amounts of pizza" through the two-day long event from "luxury lifestyle experiences" organizer Bellmonte Life, according to Grub Street. They evidently weren't impressed with the decorative Italian flags, balloons and complimentary drinks, either, as they soon spoke out to both the media and on social media.
PATRONS OUTRAGED OVER CALIFORNIA RESTAURANT BANNING 'LOUD' CHILDREN
"When we arrived at the festival we were immediately surprised by the long queues for pizza at each stall," 24-year-old Tim Swabey told BBC. When he at last did receive some pizza, Swabey said it "looked like something that had already passed through a cat's digestive system."
"I'm definitely annoyed, it was clearly very badly thought through," attendee Alex White agreed. After getting just two slices in an hour and a half period, the 28-year-old left the festival for a pizza restaurant and later called the event a "disaster" and "joke" on Twitter.
"6 hours later the same, will request a refund," another chimed in.
"AVOID AT ALL COSTS," another wrote.
For their part, Bellmont Life later apologized for the "unfortunate events" that transpired with an open letter on the social platform, citing "overzealous appetites" as a factor in the issue.
WOMAN FIRED FOR SERVING LAXATIVE BROWNIES AT CO-WORKER'S GOING-AWAY PARTY
"Despite the best efforts of our team preparing the pizzas in the smaller ovens, the flow of pizzas was slower than intended. In contrast to claims that there were not enough pizzas, this was not the case," organizers wrote. "Our team was hard at work to ensure that everyone was able to sample pizzas. However, it was unfortunate that the queues grew due to some overzealous appetites, preventing others to be able to enjoy the food."
Though the company did not immediately return Fox News' request for comment, they did offer all Notting Hill Pizza Festival attendees a complimentary VIP ticket to their July BBQ festival, as per the letter.
Meanwhile, at least one attendee has reported an issue getting in contact with them.
FOLLOW US ON FACEBOOK FOR MORE FOX LIFESTYLE NEWS
"To follow up on the Notting Hill Pizza Festival, the organisers at @bellmontelife have been ignoring NUMEROUS requests for refunds by instead apologising and BLOCKING people who paid into their scam and complained. Real thin-skinned scam artists here. How can I legally sue them?" they mused.
Oddly, this is not the first time a pizza festival has been slammed for a certified pizza shortage. In September 2017, a New York pizza festival was slammed as a 'scam' as attendees were left hungry and furious after shelling out $75 for tiny, cold pizzas and waiting hours in a "shady parking lot."