Zoe Saldana Reveals Her Masculine Dreams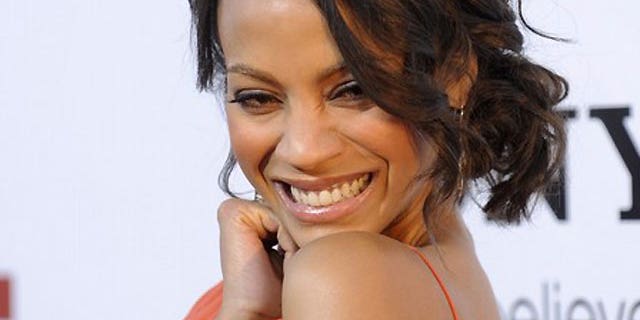 LOS ANGELES – Zoe Saldana might be Hollywood's hottest star after her role in the highest-grossing film of all-time, but it turns out the sexy starlet wants to be reincarnated sans her female assets.
"I would come back as a man," she told Pop Tarts at the premiere of her latest comedy "Death at a Funeral" in Los Angeles. "I want to know what it is like to take a leak standing up. It blows my mind."
Saldana also wouldn't mind being Michael Jackson (during his "Beat It" period) and if she had to be a lady, it would be Cher post-marriage to Sonny Bono.
And when it comes to booze, the New Jersey native learned how to down it hard at a very young age.
"It was the tequila-drinking from my grandmother that we tried to keep from my mom… every Saturday my mom would work late and my sisters and I would take tequila shots like you wouldn't believe," Saldana revealed. "We were minors; I can't even tell you how young I was. It was a very bad day when my mom found out; she was very disappointed in my Grandmother and us."
And it was the "Avatar" beauty's grandmother that was often confronted with speculation about Saldana's sexuality.
"People have sometimes told my grandmother, 'Your granddaughter has a bit of lesbianism in her,'" Saldana told the new issue of "Siempre Mujer" magazine. "It's that my sisters and I spent all our time among men. We were very popular with them. Our way of thinking is very masculine."
But for someone who is certainly no girlie girl, Saldana (surprisingly) doesn't mind getting glammed up for the Hollywood scene and being considered an ultimate style icon.
"I'm a very simple person and I don't like to do anyone's job, I do acting. So I have an amazing stylist who finds things to suit my personality and puts me together, it is so much fun," she added. "That's the only time I actually get to feel like a girl and not feel corny."