Which star's post 'Desperate Housewives' career will be the most desperate?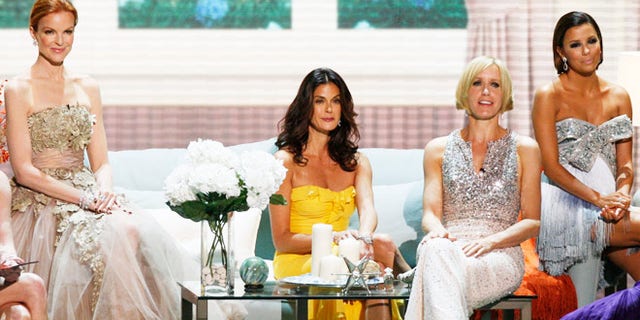 LOS ANGELES – After eight seasons of murders, mayhem, marriages and madness (and even a real-life Wisteria Lane set fire and ongoing courtroom battle) "Desperate Housewives" comes to an end on Sunday night.
That means the show's leading ladies -- Eva Longoria, Teri Hatcher, Felicity Huffman and Marcia Cross -- have to come up with their second (or third or fourth) acts. So who is best prepared to turn her "Housewife" fame into continued post-show success?
"Other than Eva Longoria, the other women simply don't have as strong off-screen personas," Ronn Torossian, CEO of PR agency 5WPR and author of "For Immediate Release," told FOX411's Pop Tarts column. "There is no question that she is the strongest brand. She has great charisma, is beautiful and is clearly driven to do much more."
Teri Hatcher says end of 'Housewives' just starting to hit her
The recently single Longoria has already inked a deal to host the NBC summer dating show "Ready For Love," produced by her company UnbeliEVAble Entertainment, and will also be involved with President Obama's reelection team.
But pop culture writer Mirren Lee doesn't think Longoria has that much of a leg up.
[pullquote]
"Eva has the next steps in place already, but I don't think she has a lot of depth to her persona, and the steps she has in place aren't exactly challenging as an actress. I expect we'll see her in a lot of reality stuff and endorsements, like a Kardashian," Lee said. "I also predict Teri Hatcher may pop up here and there, but not really settle anywhere for awhile. I think she may have trouble actually getting another high profile role for awhile, especially one that lasts."
'Housewives' behind the scenes 'untold story'
"Marcia Cross is an interesting one in that she has managed to carve a solid career out of being a soap opera actress – from 'Knots Landing' to 'Melrose Place,' then on to a show that is a parody of a soap," Lee explained. "She always plays Marcia, and she plays her well, but she is actually quite a one-dimensional actress. She has her twins to occupy her, so unless something drops into her lap – another soap type show, I think she may just take some time off."
Lee said Felicity Huffman is the best actress of the bunch, and has managed to sell herself as both a "down to earth mom" as well as a glamorous star. But surprisingly, that's not who Lee thinks is poised take Hollywood by storm.
"If success is defined as working constantly, then I predict Kathryn Joosten (who plays Karen McCluskey) will be the busiest right off the bat," Lee added. "I believe she will outlast them all. She's a relative newcomer in Hollywood, only getting her breakthrough role in "The West Wing," but she has the ability, and interesting personality, to play all sorts of characters. I would love to see her do something along the lines of her acerbic but wise character in 'The West Wing.' I don't think 'Housewives' utilized her skills to their deepest level."