When Syfy Worlds Collide: 'Warehouse 13' and 'Eureka' Crossover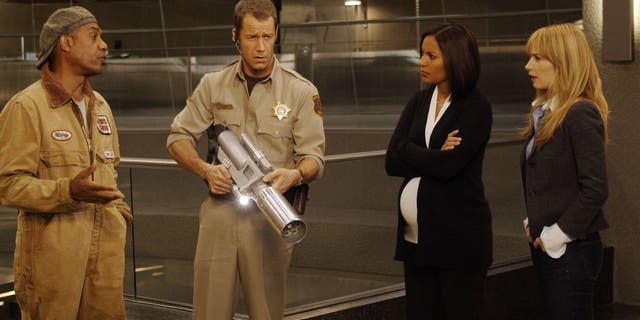 It's geek love at first sight when real-life best friends Allison Scagliotti (Warehouse 13's Claudia Donovan) and Neil Grayston (Eureka's Doug Fargo) visit each other's shows this week, starting with Tuesday's episode of Warehouse (9/8c, Syfy). Fargo, currently the most unlikely head of Eureka's chief research facility, Global Dynamics, arrives at the Warehouse — aka the government's storage area for supernatural objects — to update their ancient computer system.

"He presses buttons he shouldn't press," says Grayston, inadvertently setting off a lockdown of the facility. Fargo, Warehouse techie Claudia and her boss Artie (Saul Rubinek) are trapped inside with hostile robotic spiders and temperatures approaching a fatal chill. "It's a nice little series of bungles that turns into a catastrophe," Grayston says. "How we solve the problem is one of the funniest things I've ever done on TV." Filming on Warehouse "was like a little vacation from the madness that happens on our set, which has tons of people," he says. "This was a lot more intimate."

Three nights later, the budding crush between Claudia and Fargo continues to heat up when Claudia visits the genius haven (Friday, Aug. 6, 9/8c, Syfy). "The chemistry between Claudia and Fargo is a lot like the friendly natural chemistry between myself and Neil," Scagliotti says.

During Claudia's trip, the wormhole that has been wreaking havoc on the historical timeline in Eureka becomes a full-on death trap, with random objects showing up. When the new pals go out in the field to investigate, Scagliotti says, "the results are explosive" — in every meaning of the word. "I lobbied heavily for some boy time this year and I got everything I wanted," she says. Grayston isn't complaining, either. "It was two weeks of the biggest amount of fun, because it was basically just me and Alison getting paid to fight things, make things blow up and make out a whole bunch!"

Subscribe to TV Guide Magazine now!
View original When Syfy Worlds Collide: Warehouse 13 and Eureka Crossover at TVGuide.com
Other Links From TVGuide.com