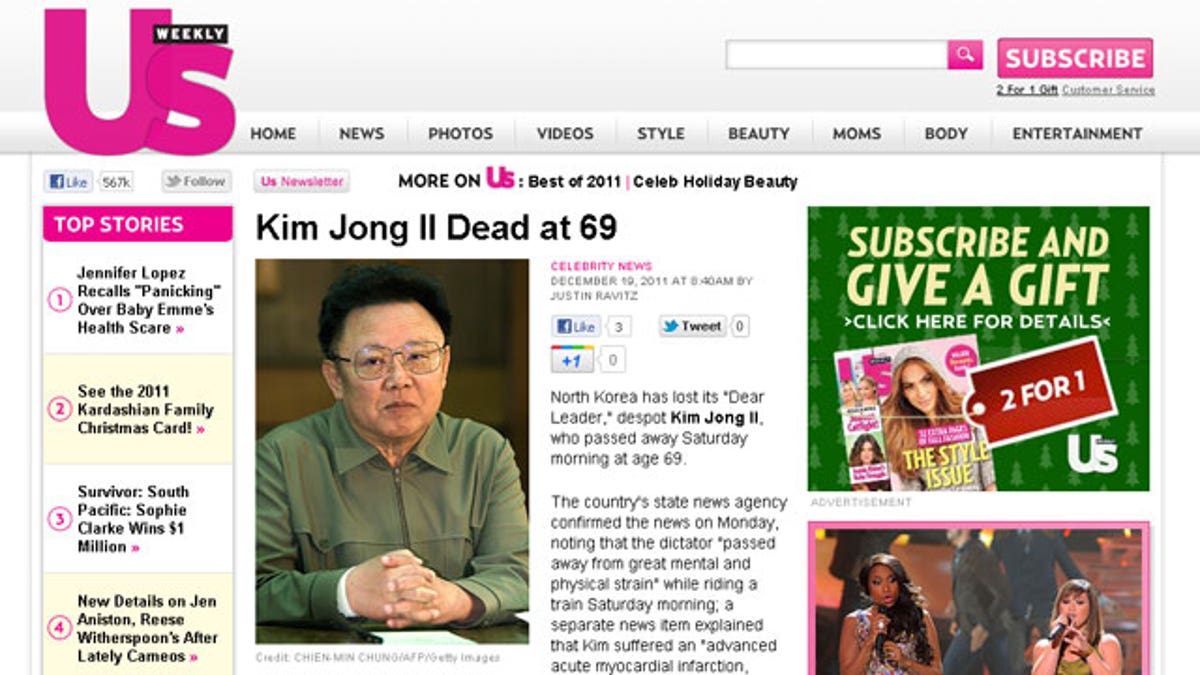 On Monday afternoon, right underneath breaking news about the release of the Kardashian family's quixotic Christmas card and Kevin Federline's happy reaction to his ex-wife Britney Spears engagement to her ex-agent, US Weekly magazine's website featured an article on the passing of North Korean dictator Kim Jong Il's death over the weekend.
The short piece, written by reporter Justin Ravitz, who had recently covered such topics as Ashton Kutcher and Demi Moore seeking marriage counseling and Christina Aguilera's too tight AMA dress, was straightforward in it's reporting of already released facts.
And the final graph of the post did provide a pop culture spin on the despot's death:
"Parodied on 30 Rock, Saturday Night Live and elsewhere, the self-obsessed, sociopathic icon was a well-known film buff with up to 20,000 DVDs in his personal collection, and ran his country's film industry since coming into power in the 90s. His most successful film was Pulgasari, a Godzilla-esque monster film."
But still, the news of the passing of the foreign leader looked somewhat out of place on the bright pink, cheery celebrity site.
But it wasn't unheard of. As celebrity news sites struggle with the rest of the Internet to gain the increasingly fractured attention of the online news reader, they are covering stories that may seem outside of their wheelhouse of babies, divorces and rehab in order to maximize their traffic.
At the end of the day, experts say adding trending topics into their mix, even if they aren't straightforward celebrity fare, is a smart move for sites like US to inject themselves into the fast-paced conversations happening online on websites and social networking platforms like Facebook and Twitter.
"A site like US Weekly could do particularly well here since they are established enough to show up high in search results, but they have the potential for a unique headline-clicking angle," explains new media expert Rachel Sklar. "The 24-hour news cycle is all about reacting - what's the news, and why should you come to us for it? With a huge story like to passing of Kim Jong Il, sites can really distinguish themselves with unique angles."
This isn't the first time the celebrity glossy's website has injected themselves into the hard news cycle. In May they ran a story on celebrity reactions to Osama Bin Laden's death, which a straight celebrity angle, as opposed to running an obituary of a deceased foreign leader.
And during the week of Steve Jobs death, US ran three pieces—an obituary, a catalog of his most memorable quotes and a celebrity reaction piece.
One communications expert tells Fox411.com that this injection of hard news into a celebrity site is as much a remark on the changing nature of what "famous" means in America as it is a plot to maximize traffic.
"Fame is a completely interchangeable commodity. It is a commodity that can be made to work any place in any context," explains Paul Levinson, a Professor of Communication and Media Studies at Fordham University and the author of "New New Media." "When your beat is fame, it doesn't matter if you are a dictator of a despotic country or someone taking your clothes off in public, or a political leader. It doesn't even matter if you are bad or good. A serial killer gets fame and can be covered on the same site as Paris Hilton. Any name that attracts attention for any reason is fodder for celebrity sites."
US Weekly did not return emails for comment on their editorial decision to include Kim Jong Il's death in their news mix.