What Happened? Rob Pattinson Suddenly Likes Looking At Himself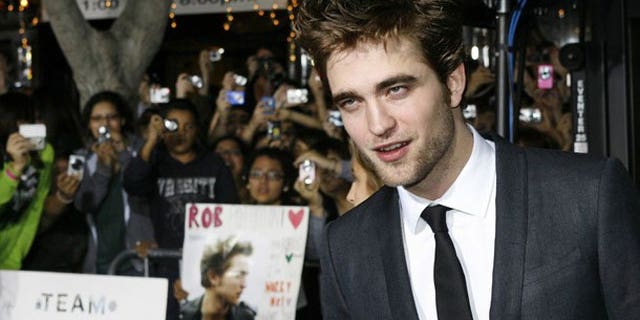 LOS ANGELES – After months and months of (over)hype, "New Moon" finally descended upon Hollywood with a star-studded premiere on Monday evening - filled with wildly devoted fans, some of which had been lining up to be front of the line since Thursday. But has all the attention changed Rob Pattinson's perspective of himself?
Months ago Pop Tarts caught up with Edward Cullen phenomenon who was quick to declare that he wasn't exactly a fan of his own face.
"I never watch my stuff, ever," he said. "I just hate it. Nothing good can come out of watching yourself."
But after catching up with him again during the promotional leg of "New Moon", it seems Pattinson has had quite a change of heart.
"I was just like (raises eyebrows) 'ok that was a good movie' and I never think that about my stuff ever," Pattinson said regarding "New Moon." "I just watched it and I kind of want to watch it again. You can't really have a better reaction than that."
Hmmm, we wonder if the 23-year-old heartthrob was devoting more awareness to watching the film itself, or admiring his on-screen (and reportedly off-screen) leading lady, Kristin Stewart…
But despite the chaos that seems to around the "New Moon" cast and Pattinson in particular, the actor said the whole phenomenon has been "nothing but positive."
"The only difficult thing is when people get into crowds," he added. "It becomes hysterical and it's mainly because you can't please anyone so people start chasing you and that's the difficult part. But if you're just on the street and one person comes up to you - I don't think I have had a single bad experience in that type of situation."
And for all the millions of dedicated/obsessed "Twilight" peeps out there, it turns out R-Patz actually thought you were weird until just recently.
"Two girls were outside of the set when we were filming 'Eclipse', they flew in from Alabama or somewhere. You kind of sit and watch them looking waiting there for like three days all day and you think 'why are these people waiting outside in the cold? Are they kind of weirdo's or something?'" he said. "Then someone else got out of their car just before me and I was like 'okay, well now when I get out what is it going to look like?' So I got out and they were just fans that really just liked it and the only thing they wanted to do was have a closer experience with it. They were completely normal lovely people."
As for fellow hottie Taylor Lautner, well it turns out that the hotness in "New Moon" required a lot of time and dedication.
"It was a lot of work," he admitted. "It was really hard, getting to the gym required a lot. I was motivated and I had my eyes on the prize. But the hardest thing was eating definitely. My trainer is like a sculptor. He was like 'I want this out here more and this on your bicep to peak more'. He is very detail oriented like that."