'Twilight' Eclipses MTV Movie Awards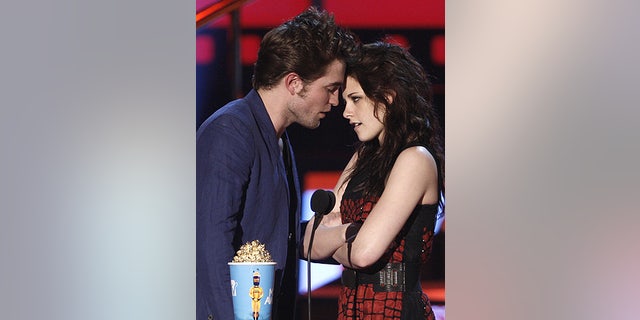 LOS ANGELES – The MTV Movie Awards were a blood bath Sunday night with "Twilight" taking five trophies, including best movie. But it was Sacha Baron Cohen who gave the show it's trademark bizarro moment when he landed upside-down on the lap of Eminem, who may or may not have been deeply offended.
"Twilight," the popular vampire drama starring Robert Pattinson and Kristen Stewart, sucked up golden popcorn trophies for best movie, best fight, best kiss, breakthrough male performance and breakthrough female performance during Sunday's freewheeling and often-bleeped ceremony at the Gibson Amphitheatre in Universal City, Calif.
"The fans are the ultimate driving force," Stewart said while accepting her best female performance trophy (which she promptly dropped on the floor, breaking off a chunk of the golden popcorn). Awards were decided by fan votes.
Other winners included "High School Musical 3: Senior Year" star Zac Efron for male performance and his co-star Ashley Tisdale for female breakthrough performance. Miley Cyrus accepted the best song from a movie prize for "The Climb" from "Hannah Montana: The Movie," preventing "Twilight" from sweeping all six nominated categories.
An award new to this year, the "WTF moment," went to Amy Poehler's scene in "Baby Mama" where she urinates in a sink.
But even that was upstaged by Baron Cohen, who flew in on a wire, hanging above the audience. Dressed as flamboyant character "Bruno" in a pair of feathery white wings and his rear end mostly exposed, the comedian crashed into an overhead obstacle and was lowered head-first into the lap of Eminem, his bare hindquarters in the rapper's face.
"Is the real Slim Shady about to stand up?" chirped Baron Cohen.
Eminem seemed visibly upset by the encounter, and members of his entourage roughly removed Baron Cohen as the rapper struggled to get out. But had the self-styled homophobic rapper been punked by Baron Cohen and MTV, or was he in on the elaborate stunt?
Free of the scene, Eminem stormed out with his entourage in tow — and cameras rolling — and hit the exits.
Baron Cohen's descent to the audience was included in rehearsals, but Eminem — who performed Sunday night — didn't take part in that piece of the run-through. As the rapper stormed off, it sounded as though he was wearing a microphone, and cameras were in position to record his fast exit, but he was not seen or heard from again.
Baron Cohen's publicist, Matthew Labov, had no comment when reached after the show. A spokeswoman for MTV would not confirm whether Eminem was caught by surprise, and representatives for the rapper did not immediately return requests for comment Sunday night.
It wasn't the first tantrum for Slim Shady at an MTV ceremony: Sparks flew when the rapper was interviewed by Triumph the Insult Comic Dog at 2002's MTV Video Music Awards.
Before this year's broadcast, Heath Ledger was awarded the best villain trophy for his twisted turn as the Joker in "The Dark Knight." Jim Carey later won for best comedic performance for "Yes Man." Ben Stiller received the MTV Generation Award, the show's highest honor.
In addition to handing out awards for movies from the past year, MTV debuted new footage from the upcoming films "Transformers: Revenge of the Fallen," "Harry Potter and the Half Blood Prince" and "New Moon." The highlight of the "Twilight" sequel clip: A newly buff Taylor Lautner transformed instantly into a giant, menacing canine, fans' first look at one of the storyline's werewolves.
Samberg kicked off the show with a movie mash-up featuring cameos from Taylor Swift and Justin Timberlake before launching into an on-stage rap performance in which he attempted to woo a surly-looking Megan Fox in the audience. Samberg later crooned with Will Ferrell during a movie montage that poked fun at "cool guys" in movies who "don't look at explosions" — and they had more than enough clips to work with, including shots of Duane Johnson, John Travolta, Will Smith, Denzel Washington and several others walking nonchalantly away from a bursting inferno.