Watergate legend Bob Woodward goes after Donald Trump with secret book, 'Fear'
The Watergate reporter who helped take down President Richard Nixon is going after Donald Trump with the surprise upcoming book, 'Fear,' scheduled to hit stores on Sept. 11 after 19 months of under-the-radar reporting and late-night interviews.
The Daily Mail reported that Bob Woodward kept the book a "secret" for the past 19 months, so that he could work on it in private.
"'Fear' is the most acute and penetrating portrait of a sitting president ever published during the first years of an administration," Simon & Schuster president Jonathan Karp said in a statement on Monday when the book was announced.
According to the Washington Post – where Woodward has worked for 47 years – the Watergate icon kept a "low profile" while working on the book.
"The author has told friends, he's gone back to some of the signature moves of his youthful reporting days," Washington Post reporter Manuel Roig-Franzia wrote.
A press release for "Fear," bills the book as an unprecedented look into "the harrowing life inside Donald Trump's White House and how the president makes decisions on major foreign and domestic policies." Woodward conducted "hundreds of hours of interviews with firsthand sources" for the book that claims to bring "to light the explosive debates that drive decision-making in the Oval Office, the Situation Room, Air Force One and the White House residence."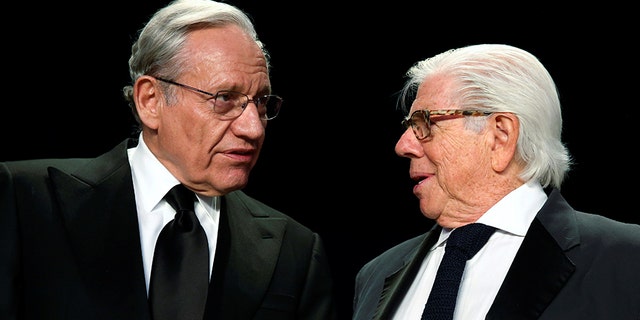 Woodward shared a Pulitzer Prize with Carl Bernstein for the Washington Post's coverage of the Watergate scandal that helped uncover details that resulted in Nixon's resignation. Bernstein – now a CNN contributor -- has been a harsh critic of President Trump
"This is the inside story on President Trump as only Bob Woodward can tell it," Karp said.
"The expected tenor of the book is underscored by its unsettling cover, an extreme close-up of a squinty-eyed Trump depicted through a gauzy red filter," Roig-Franzia wrote.
The Post also noted that Woodward has been showing up "at important people's houses unannounced to ask for interviews" late at night and has told friends that reporting on Trump has felt like a "rebirth."
Woodward was played by iconic actor Robert Redford in the 1976 film, "All the President's Men," which was based on the book he co-authored with Bernstein about their Watergate reporting.
"Fear" will be Woodward's 19th book for Simon & Schuster. Twelve of them have become No. 1 national bestsellers.
Trump was not interviewed for "Fear" according to The Daily Mail, which suggests the title comes from a 2016 interview that Woodward and political reporter Robert Costa conducted with then-candidate Trump.
"Real power is through respect… real power is, I don't even want to use the word, 'fear,'" Trump reportedly told Woodward and Costa during the interview.