Viewers give CMT Music Awards hosts Erin Andrews and J.J. Watt big thumbs down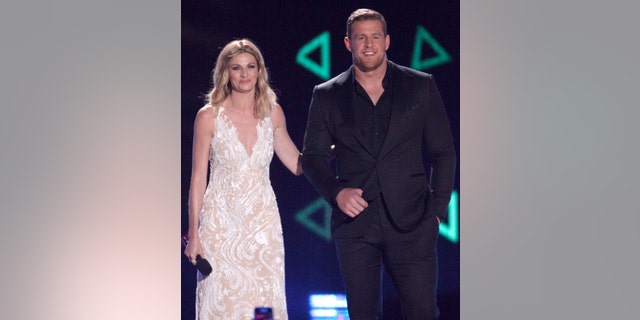 NEWYou can now listen to Fox News articles!
Wednesday night's CMT Music Awards show was met with heavy criticism for a lack of country music. And fans weren't too pleased with the show's hosts either.
Viewers complained Erin Andrews, a TV host, and J.J. Watt, a football player, were lacking country cred. Fans also griped some of the jokes made by the hosts were sexist and poorly written.
@CMT im sorry but the awards show tonite is really bad. this is not country music. the hosts and presenters all suck. i'm disappointed

— janice silanpa (@jan64000) June 9, 2016
Watt was criticized for the comments he made about all of the women in the room being beautiful but married. He also said he would like to "get with" one of Pitbull's backup dancers. At one point, Watt appeared with a female audience member on his shoulders.
"What? She couldn't see the stage," he said on the show. "I'm just being a gentleman. You're not married too, are you?"
JJ Watt. Dancers are "muy caliente"...."there are so many hot women here." Sexist jokes continue. #CMTAwards

— Derek Hudgin (@DHWritesCountry) June 9, 2016
@CMT I don't think Erin Andrews and JJ Watt could be less funny if they tried. So bad. Awful. #CMTawards

— Traci Wood (@molson220) June 9, 2016
I almost feel bad for Erin Andrews. Like who wrote these jokes they are trying to make her do. It's not working out. #notfunny #CMTawards

— Kaitlyn (@KaitElizabeth89) June 9, 2016
Most country award shows, like the ACM Awards and CMA Awards are generally hosted by country music artists.
The show aired live on CMT Wednesday night at Nashville's Bridgestone Arena.