Univision hires replacements for disgraced host, Rodner Figueroa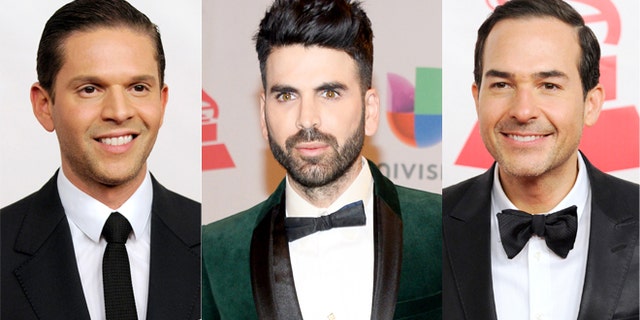 Exactly three weeks after Univision host Rodner Figueroa was fired for controversial on-air remarks about First Lady Michelle Obama, two new hosts for "Sal y Pimienta" have been named in his place.
Univision announced Wednesday that Carlos Calderón and Jomari Goyso will join Lourdes Stephen on the Sunday night entertainment show. They start this week.
"Both Carlos Calderón and Jomari Goyso are beloved among our audience," said Alberto Ciurana, the network's president of programming and content, in a statement.
The Emmy-winning fashion expert was fired for saying during an appearance on the Spanish-language network's "El Gordo y la Flaca" that the First Lady looked like a cast member from the "Planet of the Apes" movies. The remark was made during a live segment discussing make-up artist Paolo Ballesteros and his self-transformation into celebrities like Kim Kardashian, Jennifer Lopez, Ariana Grande and Obama.
The network said Figueroa's comments were "completely reprehensible and in no way a reflection of the values and opinions of Univision."
Figueroa has since apologized to the First Lady for his comment, while maintaining that it was taken out of context.
"I would like to clarify that I am not a racist and my comments were in no way directed toward you, but toward the characterization made by the make-up artist," he wrote in a letter directed to Obama. "I am embarrassed, I ask for forgiveness, because there is no excuse for a professional like me to make comments like this that can be misinterpreted as offensive and racist during such a volatile time in our country."
In a subsequent letter from his attorney to Univision, Figueroa claimed he was illegally fired for his efforts to try to get Latinos to unionize. He said the network used his controversial statement as an excuse to get rid of him.
"Make no mistake, despite Univision's best efforts, Latino talent will not be forced to 'sit in the back of the bus' any longer," Figueroa's attorney, Marty Singer, said in the letter.
Calderón is a co-host of "El Gordo y la Flaca." Goyso is one of the judges of Univision's beauty-pageant reality show, "Nuestra Belleza Latina."