Tony Parker's Relationship With Teammate's Wife Behind Eva Longoria's Divorce Filing, Reports Say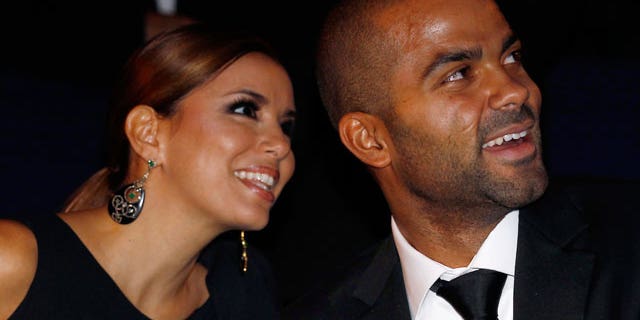 When is texting cheating?
That may be the question Tony Parker is asking himself as reports of a strange, text-based relationship with a teammate's wife are surfacing following Eva Longoria's divorce filing.
A source told the New York Post that Parker and San Antonio Spurs teammate Brent Barry's wife Erin were texting each other "for a while and probably crossed the line. Eva found out by looking at his phone."
The source added, however, that "there's no physical relationship between Tony and Erin," who was going through her own divorce from Brent Barry at the time.
Brent Barry's father, Hall of Fame basketball player Rick Barry, told TMZ that "[Brent] is going to be devastated. I can't even imagine him going through this ... the divorce was hard enough news."
RELATED: Eva Talks Thanksgiving Plans With Tony Pre-Divorce.
Longoria, 35, filed papers Wednesday morning in Los Angeles Superior Court.
She and Parker, the 28-year-old All-Star point guard for the San Antonio Spurs, were married July 7, 2007. They have no children together.
A rep for Longoria declined to comment to Fox411.com, but the former couple each posted a statement on their Twitter accounts addressing the divorce.
"We love each other deeply and pray for each other's happiness," the posting said.
But friends of Longoria tell FOX411.com the busy couple had trouble finding time to be together, flip-flopped on whether to have children, and dealt with jealousy issues.
"Eva was really in it to win it with Tony. She committed to him fast and loved their powerful life together. When they married it really was her dream wedding come true," said one pal, who attended their Paris, France nuptials in 2007. "Unfortunately, Tony was significantly younger and usually busier than Eva. They have been slowly growing apart over the years."
The source said Longoria "made huge efforts to go to as many [San Antonio Spurs] home and away games as possible, especially those first two years of marriage. Eva would run from the set of 'Housewives,' get on a plane , and be cheering in the stands week in and week out of the NBA season."
The friend said Parker "made small efforts as well to surprise her on-set and at home in Los Angeles, but Eva always worked harder to meet up with him. Her schedule made it easier and she was just more committed to finding time together than Tony was."
Starting a family also became less important for the couple, according to a second Longoria insider.

"There was a time after they were first married that children were a big priority for Eva, but that seemed to dwindle the longer they were married. Tony was younger and he didn't have the biological clock ticking," the source told FOX411.com. "Eva also had friends with kids and often they would stay with her for long periods of time. The reality of what it was really like to be responsible for a child made a difference in her desire to have an insta-family with Tony. She became more patient about family time."
The friend said rumors that Parker was unfaithful were natural, given the many temptations afforded NBA players. "I'm not sure any relationship can handle all the time apart, but women throw themselves at basketball players! Eva really had to look away from that stuff and not focus on it or it would drive her crazy. It is never easy to see women running after your man," the pal said.
But Longoria wasn't the only one who had to grin and bear it when it came to seeing a spouse with the other sex. Actor Mario Lopez was a kind of surrogate husband to Longoria when Parker was away, according to the pal.
"Tony seemed cool with Mario and Eva's close relationship, but before Mario had the baby, he was basically her boyfriend when Tony was away," the friend said. "They never cheated at all, but he would be the man in her life, her friend, her buddy when she wanted to talk. They are super great friends and have a bond that was different from her marriage."
In the divorce filing, Longoria, who had taken Parker's name, requested that her name be restored to Eva Jacqueline Longoria. The filing also stated that the couple had a prenuptial agreement.
Longoria asked the court to require each side pay its own attorneys' fees, and rule that she should not have to pay spousal support to Parker.
The Texas-born actress had previously been married to "General Hospital" star Tyler Christopher from 2002 to 2004.
It was the first marriage for the basketball player.
Before moving to the US, Parker had played for two years in the French basketball league.
He was selected by the San Antonio Spurs with the 28th overall pick in the 2001 NBA draft and became their starting point guard. He helped the Spurs win three NBA Championships in 2003, 2005 and 2007.
The high-profile duo have battled rumors of infidelity since the beginning of their marriage. In 2007, a French woman claimed she met the NBA star at his wedding to Longoria and said she began carrying on an affair with him just two months later.