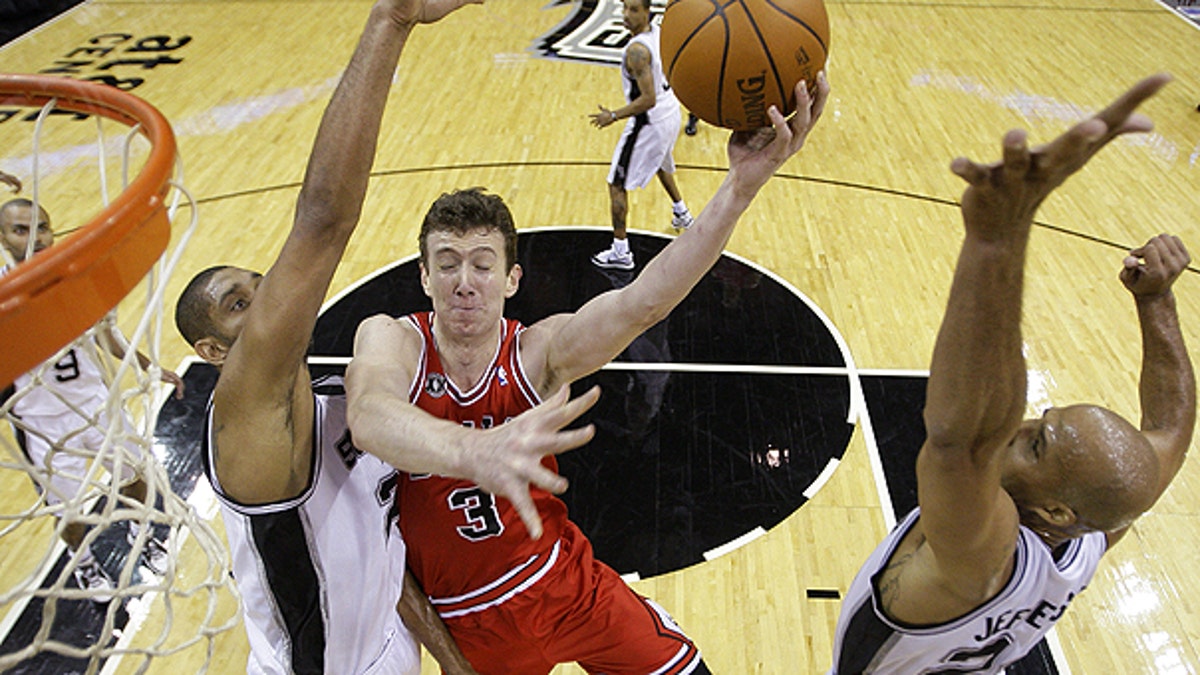 SAN ANTONIO -- The locker room door swung open and Tony Parker stood up from his chair, already showered and dressed, with not one of his dozen teammates anywhere in sight. The star of the game smiled and waited to answer questions.
But not about the divorce.
Parker scored 21 points hours after his actress wife Eva Longoria filed divorce papers to end their three-year Hollywood marriage, blocking out a gulf of attention and speculation to lead the San Antonio Spurs to a 103-94 win over the Chicago Bulls on Wednesday night.
"It was a weird game," Parker said. "I had a rough start."
Was anyone surprised?
He arrived at the AT&T Center after Longoria -- the "Desperate Housewives" star who gave the Spurs a rare courtside celebrity to boast about -- filed for divorce Wednesday morning in Los Angeles, citing irreconcilable differences.
Before he could warm-up for the game, Parker confronted more than a dozen reporters and television cameras choking the hallway outside the Spurs' locker room, waiting for the first comments from the three-time All-Star about the apparent end of his marriage.
Parker obliged, but only succinctly answered three questions before the interview was brought to an end after less than a minute. After the game, a team official told reporters that he would cut off access to Parker if anyone asked him personal questions.
The drama overshadowed an eighth straight victory and a 9-1 start for the Spurs -- tying a franchise-best that not even Tim Duncan saw during any of San Antonio's four championship runs.
Derrick Rose scored 33 points for the Bulls, whose win streak ended at four.
Rose couldn't lead the Bulls to another comeback after he scored 17 points in the fourth quarter in a win Tuesday night at Houston.
"I don't know if it was fatigue," Rose said. "The good thing about the NBA is you play again in a few days. We still feel good about ourselves."
Manu Ginobili scored 20 points and Duncan had 16 points and a season-high 18 rebounds for the Spurs, who last opened 9-1 in 1981 during the George Gervin era.
Luol Deng scored 18 points for the Bulls, but on 6 of 17 shooting. Joakim Noah had 10 points and 14 rebounds.
But all eyes were on Parker.
He was 9 of 14 from the floor and had seven assists, and when the Spurs emptied their bench with 22.2 seconds left, fans treated Parker to a standing ovation.
Parker kept his head down and never smiled.
Parker and Longoria's split made for an usually frenzied atmosphere around the Spurs, whose teams under coach Gregg Popovich have largely enjoyed insularity and few off-the-court distractions.
Longoria, 35, did not indicate in the court filings when the couple broke up. They have no children together, and Longoria has one previous marriage.
"It's a difficult time right now for me and Eva," Parker said before the game. "We got a joint statement and everything else is our private life."
Asked about speculation that Parker might have been involved with the wife of a former Spurs teammate, Parker replied: "That's my private life."
Longoria often attended her husband's games when not filming -- and in the process, usually eclipsing Spurs great David Robinson as one of the few famous faces in the crowd. When Parker signed a four-year, $50 million extension with the Spurs last month, the 28-year-old spoke as though staying in San Antonio was as important to Longoria as it was to him.
Popovich said during a morning shootaround that his star point guard getting a divorce -- during what has so far been one of the best early starts in Parker's career -- wouldn't be a distraction.
Popovich then addressed the situation one more time before the game.
"This is a difficult situation for everyone, obviously," Popovich said. "Eva and Tony are two people that we love and care about. We wish them both the best as they move through this."
Before the game, Parker said he would focus "100 percent" on the Spurs and winning basketball games. He is averaging 18.6 points and a career-best 8.4 assists.
The Spurs trailed 47-37 at halftime but stunned the Bulls with a 37-point third quarter in which San Antonio shot 71 percent. Meanwhile, Chicago missed six of 23 shots and scored just 12 points, a season low for any quarter.
"We talked about it all preseason. In training camp, in preseason -- that we wanted to have a good start and not have the same mistakes as last year," Parker said.
He then thanked reporters and walked out of the locker room, like it was any other night.
Notes: Duncan has twice as many rings, but Hall of Famer David Robinson can say he reached the Spurs' all-time scoring mark quicker. Duncan appeared in his 987th career game Wednesday, matching the number Robinson played in his 14-year career, but Duncan remains 12 points shy of The Admiral's team record of 20,790 career points.