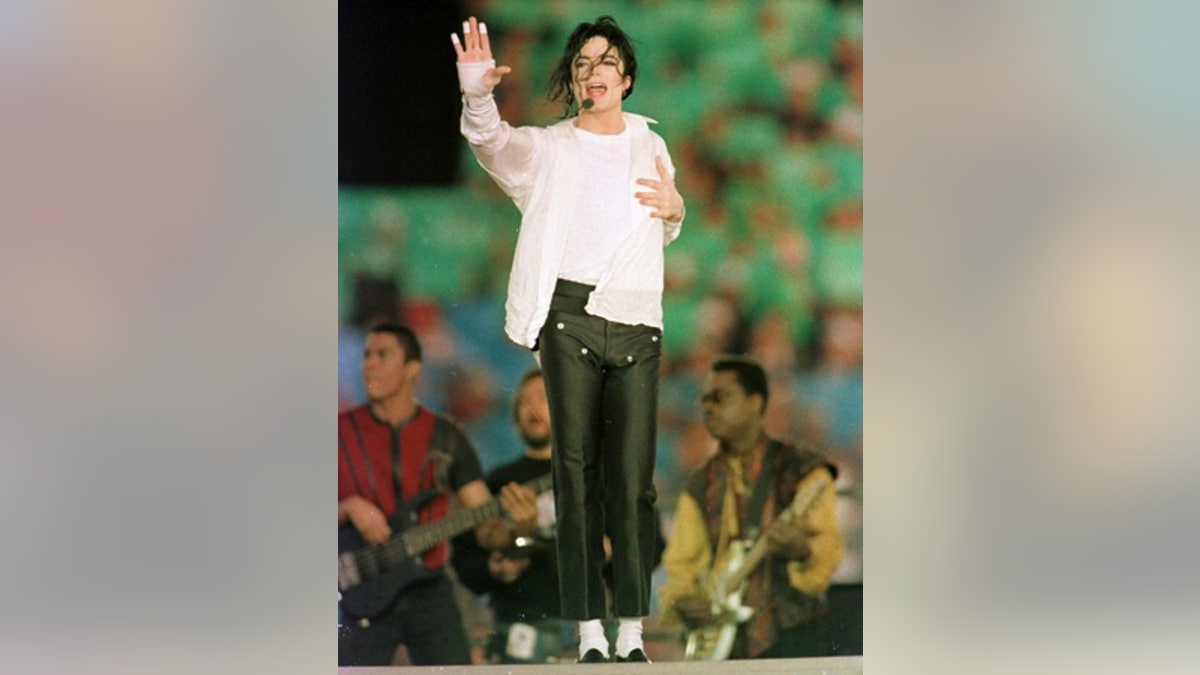 It was the last day of shooting for a Pepsi commercial at the Shrine Auditorium in Los Angeles in 1984, and the only hiccup had been an argument between Michael Jackson and an ad executive over whether the young superstar would take off his sunglasses.
"Then," as the executive later wrote, "we set his hair on fire."
Jackson was descending a staircase in an extravagant, pyrotechnic opening sequence, dancing to "Billie Jean," when a spark landed on his head. Jackson cried out. People nearby leapt on him to put out the fire, but Jackson was hospitalized for days with a burned scalp.
Thus began a thread of pain that ran through a remarkable career — and made painkillers all too accessible.
Because of accidents, frequent plastic surgery and the sheer intensity of his dancing, physical agony was the unshakable problem with being Michael Jackson.
Medical examiners in Los Angeles are perhaps weeks away from determining an official cause of death, but officials did say Friday that tests showed Jackson was taking prescription medication.
At the end of his life, a personal cardiologist was living with Jackson while he rehearsed rigorously for a historic comeback. Among the first steps police took was to tow the doctor's BMW, saying it might contain medication or other evidence.
Investigators Surprised by Jackson's Apparent Health
Since his death, people close to Jackson have said they were worried about his dependence on the drugs. In 1993, while he was defending himself against child molestation charges, Jackson himself called it an addiction.
On Saturday, spiritual teacher Dr. Deepak Chopra said he had been concerned since 2005 that Jackson was abusing painkillers and spoke to the pop star about suspected drug use as recently as six months ago.
"In a way, this was coming, and in a way, it's frustrating that we couldn't do anything about it," he told The Associated Press. "The problem has been going on for a long time, but we didn't know what to do. There were attempts at intervention, and it didn't succeed."
Chopra said Jackson, a longtime friend, personally asked him for painkillers in 2005, when the singer was staying with him after he was acquitted on sex-abuse charges. Chopra said he refused.
He also said the nanny of Jackson's children repeatedly contacted him with concerns about Jackson's drug use over the next four years, and said Jackson would avoid his calls whenever the subject came up.
Well before Jackson had a doctor living under his own roof, there were ample reasons to turn to pharmaceuticals to relieve pain.
In the early 1990s, Jackson's dermatologist revealed the singer had a skin disorder known as vitiligo, which leads to white patches on the skin. And over the years, Jackson underwent numerous plastic surgeries, the most prominent being the narrowing of his nose. Few people know exactly how many there were in all.
Jackson was a passionate performer and an exceptional dancer, renowned for his choreographical perfection. Ailments were, or at least began as, a byproduct of his dedication.
In 1990, he was hospitalized with chest pains. In 1993, he canceled a performance due to dehydration and later cut his tour short because of his painkiller addiction. In 1995, he collapsed on stage at the Beacon Theater in New York and was hospitalized.
Then there was London. Mounting a comeback aimed at least in part on erasing the taint of years of scandal, Jackson was to perform a staggering 50 shows at the O2 arena, the first of them in mid-July.
It was a schedule daunting enough that Jackson was training in recent months with Lou Ferrigno, the star of TV's "Incredible Hulk." And while a 50-show run would be challenging even for an athlete in his prime, Jackson was 50 years old. As he aged, his appearance had become famously, almost spectrally, drawn.
Those involved in the production said Jackson was heavily involved in all aspects of the concert rehearsals. He had hired a personal trainer and was practicing with backup dancers and choreographers several hours a day.
"He was working hard, setting the example, overseeing the choreography, kicking butt and taking names," said Johnny Caswell, president of CenterStaging Musical Productions Inc., a Burbank, Calif., sound stage where Jackson rehearsed until late May. "He was ready to blow everybody out of the water."
Randy Phillips, president and CEO of AEG Live, the producers of the London show, said Jackson was dancing "as well or better than the 20-year-old dancers we surrounded him with. ... He was riveting."
Maryss Courchinoux, a 29-year-old from Paris who said she had been selected as a backup dancer for the show, described the tour rehearsals as more arduous than the performances themselves.
"A heart is a muscle," she said. "If you don't build it up little by little, you will have problems and start cramping up. I don't know what his lifestyle was before he started rehearsing."
Jackson's family said he died of cardiac arrest on Thursday at UCLA Medical Center. A person familiar with the situation, speaking on condition of anonymity because the person had not been authorized to speak publicly, said it was an apparent heart attack.
Others familiar with a life in dancing and performing spoke similarly of its physical demand — in particular, the need for consistent practice. It is not, they said, a line of work in which a performer can figuratively jump from zero to 60 mph or more.
"You can never stop," said Jodi Moccia, a dance teacher and a choreographer who works with the cast of "Mamma Mia!" to prevent injuries. "Once you stop, those muscles don't come back like they usually do."
Four years ago, it was almost unthinkable that Jackson might attempt such an undertaking.
During his 2005 molestation trial, he appeared gaunt and had recurring back problems that he attributed to stress. The trial was interrupted several times by hospital visits. Jackson once even appeared late to court dressed in his pajamas after an emergency room visit.
After the acquittal, prosecutors argued against returning some items that had been seized from Neverland, the estate Jackson converted into a storybook playland. Among the items were the powerful painkiller Demerol and other prescription drugs.
That a performer with such a history of pain and a struggle with painkillers was attempting such an ambitious and grueling comeback was, some said, a collision course. Michael Levine, a publicist for Jackson in the early 1990s, called the stresses on Jackson "a toxic mix that nobody can withstand."
Others close to Jackson described a feeling of sad inevitability to his death.
Brian Oxman, a former Jackson attorney and family friend, told NBC's "Today" show: "The result was I warned everyone, and lo and behold, here we are. I don't know what caused his death. But I feared this day, and here we are."