'The Simpsons' addresses Apu stereotype controversy: 'What can you do?'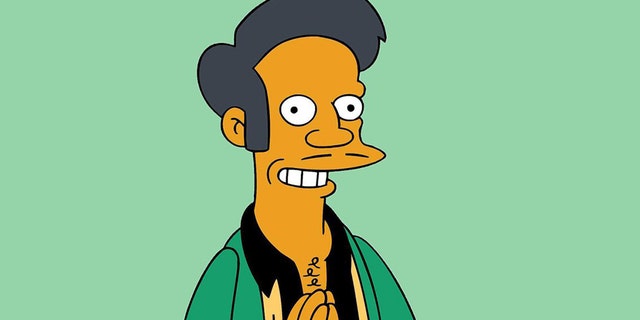 "The Simpsons" addressed the controversy surrounding the character Apu Nahasapeemapetilon in Sunday night's episode in a brief scene that some viewers felt was a "slap in the face."
In the episode titled "No Good Read Goes Unpunished," the show producers slipped in a scene with Lisa and Marge Simpson, who is reading an updated version of "The Princess in the Garden" that was edited to make it acceptable for 2018.
At one point, Lisa turns to the camera and says: "Something that started decades ago and was applauded and inoffensive is now politically incorrect. What can you do?"
Lisa then looks at a picture of Apu with the catchphrase "Don't have a cow!" written on it.
"Some things will be dealt with at a later date," Marge says.
"If at all," Lisa responds.
Criticism surrounding Apu, the show's convenience-store owner known for his thick Indian accent, was brought to the forefront after comedian Hari Kondabolu released a documentary in November called "The Problem with Apu." The comedian said the character focused on hurtful stereotypes toward the South Asian community.
"Everything with Apu is like this running joke," Kondabolu told the New York Times in November. "And the running joke is that he's Indian."
Hank Azaria, who is the voice of Apu, also said the situation surrounding "The Simpsons" character "upsetting" and said the documentary brought up some interesting points.
"I think the documentary made some really interesting points and gave us a lot of things to think about and we really are thinking about it," Azaria told TMZ.
Kondabolu tweeted early Monday the show's response to the Apu depiction was "sad."
"Wow. 'Politically Incorrect?' That's the takeaway from my movie & the discussion it sparked? Man, I really loved this show. This is sad," he tweeted. "In 'The Problem with Apu,' I used Apu & The Simpsons as an entry point into a larger conversation about the representation of marginalized groups & why this is important. The Simpsons response tonight is not a jab at me, but at what many of us consider progress."
Film critic William Mullally called the show's response a "slap in the face."
"The Simpsons response to The Problem with Apu: a callous and resentful shrug," Mullally tweeted. "No this is the ultimate slap in the face. Delivering it through Lisa is their way of saying: 'this *is* the reasoned, progressive and culturally sensitive perspective.'"
Some said the show could have talked about Apu in a full episode instead of just a brief mention.
"Simpsons" showrunner Al Jean seemed to know the onslaught of criticism would come after the episode aired. He took to Twitter Sunday night to say: "New Simpsons in five minutes. Twitter explosion in act three." He also retweeted fans applauding the show's response to the Apu issue.
Jean also said in a statement to Entertainment Weekly that the "episode speaks for itself."