'The Office's' Jenna Fischer reveals her 1st role was in sex education video
"The Office" star Jenna Fischer revealed in an essay that her first acting gig was in a sexual education video for patients with mental health problems.
Fischer wrote in an essay for The New York Times that she left her home in St. Louis for Los Angeles to pursue her dream of becoming a famous actress. But Fischer soon found herself broke and downtrodden. Her car had broken down and her cat was so stressed out that "he was licking out patches of his fur." The actress said she got a job as a receptionist but "felt like a failure."
'THE OFFICE'S' JENNA FISCHER BLASTED OVER INCORRECT GOP TAX BILL TWEET
"The thought of quitting was constant," Fischer wrote. "But I was too embarrassed to go back to St. Louis. I'd basically told everyone I was going to be this big star in Hollywood, and after almost a year I hadn't booked a single job. I was humbled and humiliated."
However, the future star got her big break by landing a role in a sexual education video for mental health patients. Fischer recalled the role in which she wore her own clothes and did her own makeup. She described the back-and-forth exchange she had with her "older sister" in the video, and recalled being shown "every contraceptive device ever invented," including an IUD, which the actress pointed out "has to be implanted by a gynecologist."
Fischer said she made $100 from the gig and received the courage to follow her dream, which eventually led to her spot on the hit comedy show "The Office."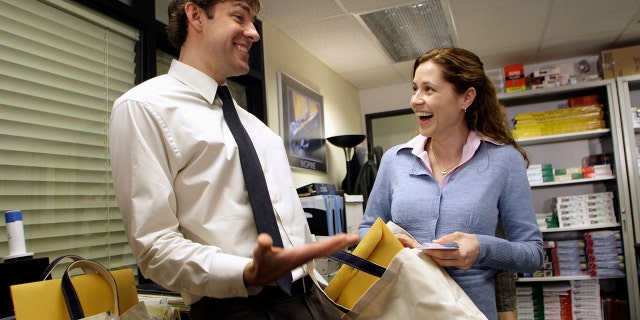 WWE'S CHARLOTTE FLAIR ON CONTINUING HER FATHER'S LEGACY
"But it was important to me; it gave me the courage to keep going, to stay in Los Angeles and chase my dream," Fischer wrote.
"Until eight years later, when I eventually got to say a line that would change my life forever: 'Dunder Mifflin, this is Pam.'"