Thai cave rescue movie in early stages as producers arrive on the scene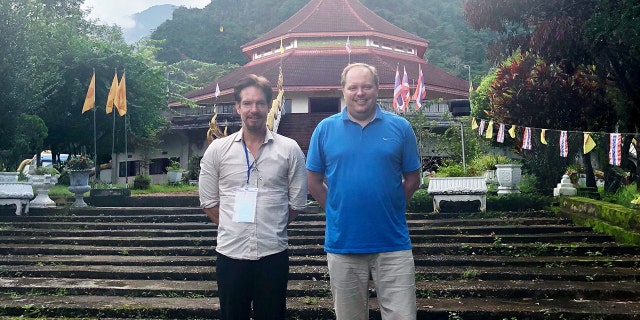 A movie about the 18-day daring rescue of 12 boys and their soccer coach from a cave in northern Thailand is already in the works.
Producers from the faith-based production company Pure Flix told Fox News they arrived in Thailand to witness the rescue effort.
A rep for Pure Flix told us that founding partner Michael Scott and producer Adam Smith are merely "on the ground witnessing what is happening and discussing elements... in a respectful manner" and are not filming at this time.
Scott has a special connection to the case as his wife, who grew up in Thailand, was friends with the former Thai navy SEAL that died as part of the rescue efforts.
"This just kind of fits our DNA in terms of a really inspirational story," Scott told AAP, according to News.com.au. He added that the movie will center around the two British divers who stumbled across the trapped soccer team after days of searching.
"It's got incredible heart, incredible acts of heroism and bravery. It's just an incredible thing and we think it will inspire millions around the world," he said. "I see this as a major Hollywood film with A-list [stars]."
The plight of the boys and their coach has riveted Thailand and much of the world — from the heart-sinking news that they were missing to the first flickering video of the huddle of anxious yet smiling boys when they were found 10 days later by a pair of British divers. They were trapped in the cave that became flooded by monsoon rains while they were exploring it after a soccer practice on June 23.
All 12 boys and their soccer coach were eventually rescued from the flooded cave. The SEALs, who were central to the rescue effort, said on their Facebook page that the remaining four boys and their 25-year-old coach were all brought out safely Tuesday.
The Associated Press contributed to this report.