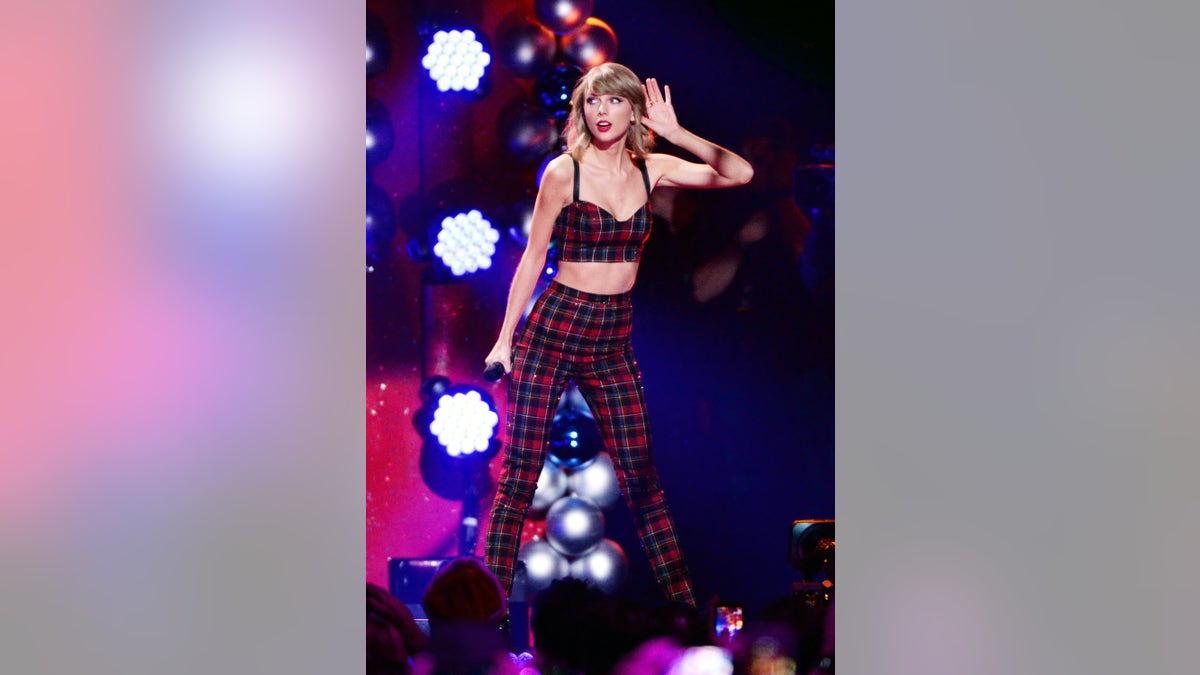 Taylor Swift rang in her 25th year singing her lungs out at the Z100 Jingle Ball concert in New York City on Friday night and into Saturday morning.

The "It Girl of 2014," according to presenter Ryan Seacrest, fittingly performed for the final minutes of her 24th year, and the first minutes of her next. The country-turned-pop princess showed why she already stands atop her new musical genre, managing to best a strong lineup of Top 40 titans that included Iggy Azalea, Ariana Grande, Maroon 5, Jessie J, Sam Smith, Five Seconds of Summer, and One Republic.

Swift, the much maligned (at least by New Yorkers) new ambassador to New York City, opened with her ode to her adopted home town, "Welcome To New York," powered through "Trouble" and "We Are Never Getting Back Together," from her album "Red," and sang her latest number ones, "Blank Space" and "Shake It Off."

Swift wasn't the only one who had the crowd – 90 percent teen-age girls and their parental chaperones – screeching like tires coming off the line at a drag race. In the pre-show video introduction of all the acts, Grande, Smith, 5 Seconds of Summer, Azalea, Jonas Brother gone solo Nick Jonas, and Swift got the biggest anticipatory squeals.

Smith, Azalea, and Swift were granted the longest sets (four or five songs), while the other acts did two or three tunes each. "All About the Bass" singer Meghan Trainor sang her hit and that's about it. "Boom Clap" star Charli XCX brought out an all-girl four piece band wearing cheerleader outfits that played like Joan Jett and the Heartbreakers. Pharrell asked kids up onstage to help him with his now ubiquitous single "Happy." (Most of them just stood up there taking selfies, instead of actually singing and dancing.)

Ariana Grande had the well-oiled night's biggest slip up when she almost went splat strutting across the stage in what looked like 6 inch heels. "I almost died up here," the teenage pop star gasped before getting back to business.

And there was plenty of business being done, with TV commercials airing on the big screens dotting Madison Square Garden between the acts , along with plugs for health care sign-ups and smart phone apps. The breaks seemed to allow the screaming female fans in attendance time to recharge their vocal cords, as every act with the exception of just a few got all the adulation they could have dreamed of.

There were an assortment of A-listers on hand to introduce performers. Jamie Foxx, Sarah Jessica Parker, Ansel Elgort, and Emma Roberts were there, but attesting to the fan base present, Vine stars Nash Grier and Cameron Dallas were the non-singers who got the biggest cheers.

Z100's Jingle Ball is part of the national iHeartRadio Jingle Ball Tour, and is in its 19th year as one of New York City's biggest annual music events. The concert also donated $1.00 of each ticket sold to the Ryan Seacrest Foundation, a non-profit organization thelping young people through entertainment and education focused initiatives.