Stan Lee's restraining order against former business manager dismissed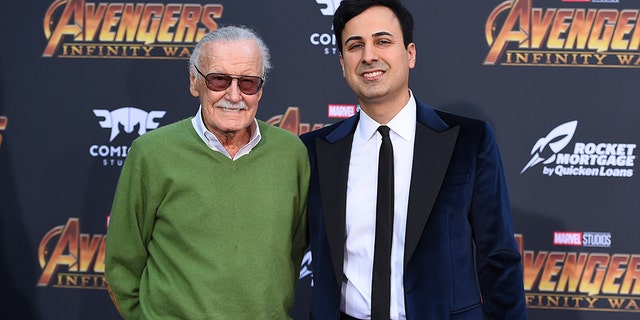 A judge on Friday refused to recognize the authority of a lawyer who had obtained an elder-abuse restraining order on behalf of Stan Lee, a move that allowed attorneys for Lee's daughter to reassert their representation of the 95-year-old mastermind behind many of Marvel Comics' most-recognizable characters.
In a tiny Los Angeles courtroom packed with current and former attorneys and associates of Lee, lawyer Tom Lallas rose and asked for a 30-day extension of the temporary restraining order he had received against Lee's former personal adviser Keya Morgan.
But Superior Court Judge Pro Tem Ruth Kleman refused to consider the motion after attorneys working with Lee's daughter said they had sole authority to represent the comics legend.
"I'm only concerned who has authority to represent Mr. Lee," Kleman said.
She then dissolved the temporary restraining order.
STAN LEE FILES RESTRAINING ORDER FOR ELDER ABUSE AGAINST FORMER BUSINESS MANAGER

Lee's daughter and only child, J.C. Lee, sat in court and smiled at her attorneys when the judge refused to recognize Lallas.
Her attorneys said after court that they immediately filed for a similar order against Morgan. They said they would also work with police and prosecutors in an elder-abuse investigation involving Morgan. It was not immediately clear whether the new restraining order had been granted.
Stan Lee's declaration said he had fired Lallas in February and had no desire to be further represented by him, and said that he had likely committed malpractice by disclosing to media and others his opinions about Lee's health and personal life. It said that he had no desire for Lallas to file for the restraining order in his name.
"Mr. Lallas has done enough damage already," the document says. "Hopefully, he will just stop." The document then includes Lee's original request that Lallas be fired, signed, "Excelsior! Stan Lee."
The hearing came on the anniversary of the death of Joan Lee, Stan Lee's wife of nearly 70 years, whose absence left a void that has resulted in a struggle between would-be friends, attorneys, advisers and managers of the man whose co-creations include Spider-Man, the Incredible Hulk and the rest of the Avengers. The latest film featuring his characters, "Ant-Man and The Wasp," was released Friday and is expected to top the weekend box office.
Lallas said outside court that he stood by his assertion that he could act on Lee's behalf, but he was glad at least that Lee's other attorneys were moving to keep Morgan away from him.
Morgan's lawyer Alex Kessel, who came to court on Friday only to have the hearing delayed, exuberantly declared "Case dismissed!" outside the courtroom. "He didn't have the authority to represent Mr. Lee, and that's kind of an important fact to determine!" He said he hadn't yet seen the new restraining order request.
Morgan, a producer who worked on the recent John Travolta movie "Gotti," told The Associated Press in a text message that he was in New York working on another film. He declined to comment further on the advice of his lawyer.
Morgan has previously denied abusing Lee in any way.