Sheila E.: Music locked in Prince's vault should stay in the vault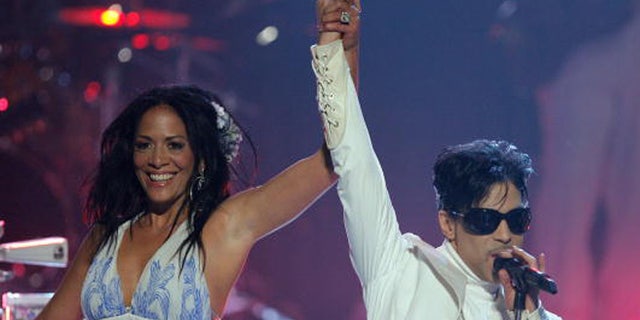 NEWYou can now listen to Fox News articles!
"We're just a small family, leaning together. It feels like we're in our own little bubble," Sheila Escovedo, best known as Sheila E., a longtime friend of Prince's, told Fox News Latino on Friday – a day after his sudden passing in Minnesota.
The two singers met in 1978 at an Al Jarreau concert. In an excerpt from her 2014 memoir, "The Beat of My Own Drum," she described locking eyes with him backstage.
"Oh, Lawd!," she thought. "Help me, my mind cried out. He is fine. And he plays guitar. What? It's over now."
The two worked together extensively for years after meeting, and he eventually proposed to her during a performance of "Purple Rain."
"When we met in '78, it was the first time he'd ever heard Latin Jazz music," the singer told FNL. "He loved it. We shared a lot of different musical influences."
Escovedo is the daughter of Mexican percussionist Pete Escovedo.
Although the two never actually tied the knot, they remained extremely close over the years.
"I think the one thing the fans never got to see was his funny side. He loved to play practical jokes. We just laughed a lot," she said.
Sheila E. told FNL that she's now in Minneapolis helping Prince's family plan the funeral. "I came to help out with the arrangements," she said, "and to honor him in the way he would have wanted."
It's rumored that the "Little Red Corvette" singer had been battling the flu when his plane made an emergency landing at an Illinois hospital last week en route from a concert in Atlanta.
Sheila E. said she plans to find out exactly what happened with the late music icon's health
According to Hollywood Life, Apollonia Kotero, Prince's "Purple Rain" costar and longtime friend, is headed to Minnesota as well.
While Sheila E. seemed in the dark about Prince's possible medical ailments, a source told Hollywood Life that Apollonia had been in contact with Prince in the days following his hospitalization.
She was "calling him a lot, checking in with him," the source said, and had been "really worried about him."
Sheila E. is best known for her mid-1980s songs, "The Glamorous Life" and "A Love Bizarre" — both collaborations with Prince. She also sang background vocals on Prince's "Let's Go Crazy" and "Erotic City" and played percussion on several of his tours.
As for the many hundreds of songs he recorded with and without Sheila E., that have remained "in the vault" – she told FNL that she doesn't believe they should be released.
"Prince always did what he wanted to do. He had accomplished what he wanted to musically. He worked with whomever he wanted, and if he had wanted those released, he would have released them," she said.
Sheila E. says she and Prince's family have been thankful for the outpouring of love at his Minnesota mansion, Paisley Park. "I'm not watching what's happening on TV or reading what people are reporting online," she admitted. "I can't imagine what's being said, but all the flowers and cards and prayers from the fans mean a lot."