Selena Gomez Unfazed After Falling Off Stage During Concert – And Pulls It Off Like A Pro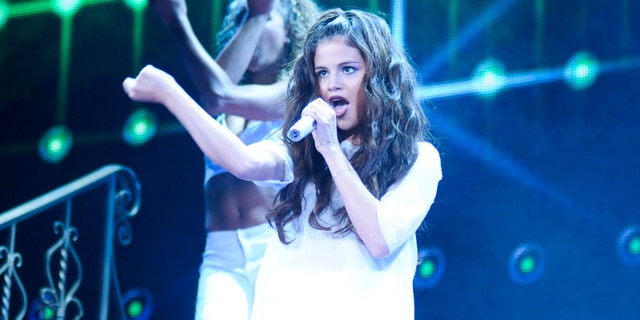 Selena Gomez is a talented performer and pulls of concerts like a true professional. She had to put her skills to the test during her Oct. 11 concert in Fairfax, Va.
While singing and dancing and jumping to her song "Slow Down," the 21-year-old starlet got a little too close to a step at the front of the stage. Not noticing the drop-down, she tripped over the step while jumping up and down with her backup dancers – falling on her knees.
But being the true performer that she is, the former Disney star played it cool and used it as an excuse to high five some lucky fans. After a dancer helped her back up on her feet, Gomez immediately was back performing and hitting her dance moves with precision alongside her dancers with a smile on her face.
Prior to the fall, Gomez's concert had gone without a hitch. While belting out her hit song – and dress in a slinky dress and boots – she showed off her sexy dance moves.
It seems there was not permanent damage from the fall, as Gomez managed to take pictures with fans after the show like always.
The "Come & Get It" singer's tour continued in Pennsylvania – she took pictures with fans there too.
The former "Wizards of Waverly Place" star is never one to shy away from posting pictures on social media and even jokes about her personal life.
Gomez posted a cute pic of her cousin cuddling up with her boyfriend – and it looks like she couldn't help but feel like the third-wheel.
"Spending time with my cousin and her man … #3rdwheel #singleladyproblems #futurecatlady #werk," she wrote in the caption.
Could she be missing her former flame pop singer Justin Bieber, who reportedly is tirelessly working to get her back?
Follow us on twitter.com/foxnewslatino
Like us at facebook.com/foxnewslatino