Scene & Herd: Where the stars were and what they were doing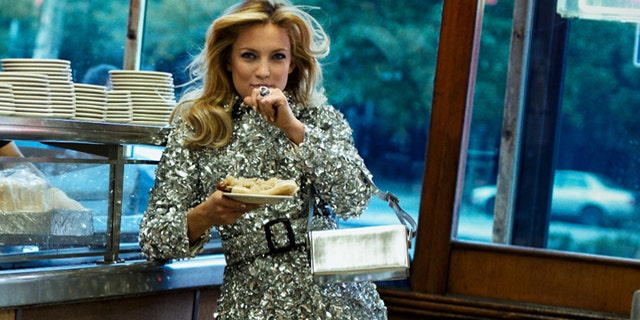 Kate Hudson, Gwyneth Paltrow, and Sarah Jessica Parker schmoozing while clinking glasses of Moet & Chandon.
Simon Cowell picking up some "room cleansing" sprays and candles from the Carole Shashona Luxe Collection at Barneys Beverly Hills.
NAS performing to a private crowd including Rumer Willis and Elizabeth Olsen at the Hennessy V.S DETAILS @Midnight at Coachella 2013.
Despite news of a split, Jane Seymour and James Keach host the 3rd Annual Open Hearts Foundation Gala on Saturday Night in Malibu.
Kate Hudson donning Ann Taylor at the Breast Cancer Research Foundation's Annual Hot Pink Party.
Dennis Rodman being referred to as the "Unofficial Ambassador to North Korea" at the Blacks' Annual Gala over the weekend at the Fontainbleau in Miami Beach.
Ryan Phillippe hosting the screening of the surf documentary "Isolated" (which he also narrated) to help bring awareness to genocide in West Papua at the West Los Angeles Equinox.
Olivia Culpo, Miss Universe, being appointed the "Madrina" or godmother of the Latino Commission on AIDS at Melibea, the brand new Mediterranean restaurant in New York's West Village.
Vanessa Hudgens, Julianne Hough, Alexander Skarsgard, Leonardo DiCaprio, Clint Eastwood, Emma Roberts, Kirsten Dunst and beau Garrett Hedlund, Stacy Keibler, Alessandra Ambrosio partying hard at Under the Stars at A|X Armani Exchange Neon Carnival during the Coachella Music Festival.
Jennifer Hudson, Kelly Rowland, Quincy Jones, Chelsea Handler, Cindy Crawford, Jack Osbourne, Dave Grohl, Usher, Chris Cornell, Don Henley, Harry Belafonte, Jackson Browne and Linda Perry picking up goodies from the likes of New Balance, TiVo, Ultimate Ears, Aquaswiss, PHYTO, Crunch, Thursday Friday, Murad Skincare and Hasbro Games World Series of Yahtzee at the I Can't Believe It's Not Butter! Lounge during the 28th Annual Rock & Roll Hall of Fame Induction Ceremony in Los Angeles.
Sarah Jessica Parker, Matthew Broderick and their son, James Wilkie, rocking K-Way through the chilly Manhatten streets.
David Arquette, James Van Der Beek, and Nigel Lythgoe enjoying a night of dinner a performance from LA Ballet all to raise awareness and money for the LA Ballet at their Rubies Gala at the Beverly Wilshire Hotel.
Norman Reedus, Naomi Watts, Matt Dillon and guests including Jodie Foster and Dean Winters, and cast mates including Keith Hudson headed to a packed party sponsored by the St. Pete/Clearwater Film Commission in The Jane Hotel to celebrate the Tribeca Film Festival premiere of "Sunlight Jr."
Chris Hemsworth, Octavia Spencer, Ahna O'Reilly and Hailee Steinfeld at the City Year Los Angeles' Spring Break: Destination Education event at Sony Pictures Studios, picking out their very own custom-made silk screen t-shirt designed by Nanette Lepore for jcpenney.