Sandra Lee's Thanksgiving appetizers and cocktails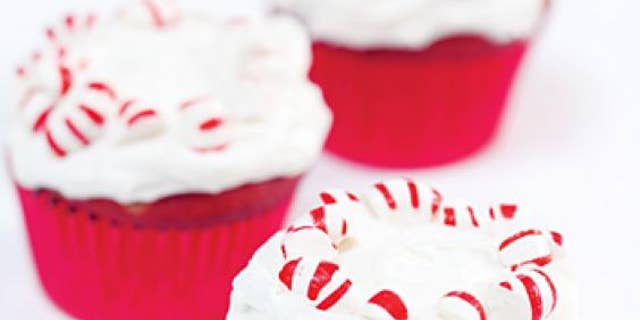 NEWYou can now listen to Fox News articles!
CARAMEL CREAM COCKTAIL
Makes 1 serving
Ingredients
1 chewy caramel
3 ounces espresso, cooled
1 ounce Smirnoff® Kissed Caramel Flavored Vodka
1 ounce Smirnoff® Iced Cake Flavored Vodka
Whipped cream
Caramel ice cream topping
Method
1. Trim the caramel at one end. Thread the caramel on a cocktail pick; set aside for garnish.
2. In a cocktail shaker combine espresso, vodka, and a handful of ice. Shake vigorously for 20 seconds.
3. Strain into a martini glass. Top with whipped cream and a drizzle of caramel ice cream topping. Garnish with caramel swizzle stick.
FROSTINI
Makes 1 serving
Ingredients
1 ounce Smirnoff® Iced Cake Flavored Vodka
2 ounces white grape juice
2.5 ounces chilled Prosecco, Stellina di Notte
Single iced mini cupcake
Method
1. In a cocktail shaker combine vodka, grape juice, and a handful of ice. Shake until vodka is very cold.
2. Strain into cocktail glass. Carefully top with Prosecco.
3. Cut a slit in the bottom of the cupcake and place on the edge of the glass as a garnish.
PEPPERMINT CUPCAKES WITH SNOWMAN PEEPS
Makes 24 cupcakes
Ingredients
24 red paper cupcake liners
1 (18.25-ounce) box white cake mix
1 cup cranberry juice
3 large eggs
1⁄3 cup vegetable oil
11⁄4 teaspoons peppermint extract, divided
Red food coloring gel
FROSTING:
2 packages (3-ounces each) PHILADELPHIA Cream Cheese
1.2 cup butter, softened
4 cups powdered sugar
2 teaspoon vanilla extract
Garnish: Snowman Peeps
Method
1. Preheat oven to 350°. Line muffin cups with paper liners.
2. In a large bowl, combine cake mix, 1 cup cranberry juice, eggs, oil, and 1⁄2 teaspoon extract. Beat at medium speed with an electric mixer until well blended. In a medium bowl, place half of batter; tint with red food coloring gel, stirring to achieve desired color. Divide untinted batter evenly among prepared muffin cups. Top evenly with tinted batter.
3. Bake for 15 minutes, or until a wooden pick inserted in center comes out clean. Cool in pans for 10 minutes. Remove from pans, and cool complete¬ly on a wire rack (about 50 minutes).
4. In a bowl, combine frosting and remaining 3⁄4 teaspoon extract; stir well. Spread frosting over cupcakes; top each cupcake with a Peeps Snowman placed in the center.
STUFFED MUSHROOMS
Makes 28 servings
Ingredients
28 large white button mushrooms
1 tablespoon extra virgin olive oil
1 pound spicy pork sausage
2 teaspoons Greek seasoning
1/2 teaspoon salt
1 package (10-ounce) frozen chopped spinach, cooked and well drained
1 jar (4-ounce) chopped pimiento, drained
1⁄3 cup shredded Romano cheese
2 eggs, lightly beaten
Method
1. Preheat oven to 350°F. Lightly coat a baking sheet with cooking spray. Wipe mushrooms clean but do not get them wet. Remove mushroom stems and finely chop. Lightly spray mushroom caps inside and out with cooking spray; set aside.
2. In a large skillet, heat oil over medium-high heat. Break up sausage into skillet; add chopped mushroom stems, Greek seasoning, and salt. Cook until sausage is crumbled and cooked through. Transfer mixture to bowl and add spinach, pimiento, cheese, and eggs; stir to combine.
3. Stuff each mushroom with 2 tablespoons of mixture; press firmly. Place stuffed mushrooms on baking sheet. Bake for 15 to 20 minutes.
FANCY FIGS WITH ORANGE-HONEY DRIZZLE/CREAM CHEESE BRICK WITH CHUTNEY RECIPE
Makes 4 servings
Ingredients
Fancy Figs with Orange-Honey Drizzle:
1/4 cup honey
2 teaspoons frozen orange juice concentrate, thawed
1⁄8 teaspoon herbes de Provence
12 fresh Mission figs, halved
Nonstick vegetable cooking spray
4 ounces Brie cheese, cut into wedges
Baguette-style French bread slices, toasted
Method
1. Preheat broiler; spray a baking sheet with nonstick cooking spray. Meanwhile, for Orange-Honey
Drizzle, in a small saucepan, combine honey, orange juice concentrate, and herbes de Provence. Simmer over medium heat for 2 minutes. Set aside.
2. Lightly spray cut sides of figs with cooking spray. Place figs, cut sides down, on prepared baking sheet
6 to 8 inches from heat for 1 to 2 minutes per side or until figs are tender. Remove from oven.
3. Serve fig halves and Brie cheese on bread slices. Top with Orange-Honey Drizzle.
MUSHROOM BITES
Makes 15 pieces
Ingredients
1 package mini phyllo shells
2 tablespoons butter
1 shallot, finely diced
2 cloves garlic, finely diced
4 ounces mixed oyster mushrooms, sliced
4 ounces shiitake mushrooms, stems removed and sliced
1/2 cup BV Coastal Estates, Merlot wine
2 teaspoons fresh thyme leaves
1/4 pound Brie cheese
4 chives, sliced, for garnish
Salt and pepper, to taste
Method
1. Preheat oven to 350°F. Bake the shells according to package directions.
2. Heat a skillet over medium heat and add the butter. When the butter is melted, add the shallot and garlic and cook until soft, about 5 minutes. Add the mushrooms and season with salt and pepper. When the mushrooms have released their liquid, add the Merlot and cook until most of the liquid has evaporated, about 10 minutes. Stir in the thyme leaves.
3. Divide the mushroom mixture among the shells. Cut the Brie into15 small pieces. Top each shell with a piece of cheese.
4. Return the shells to the oven and bake until the cheese has melted, about 5 minutes. Serve warm. Garnish with sliced chives.
CRANBERRY PIZZAZZ
Makes 18 servings
Ingredients
8 whole cardamom pods
Stick cinnamon
12 whole cloves
4 cups dry red wine, Sterling Vineyards® Reserve Cabernet Sauvignon
35 ounces cold water
1 can (12-ounce) frozen cranberry juice concentrate
1/3 cup honey
Cranberries and orange slices
Method
1. Cut 6-inch squares from a double thickness of cotton cheesecloth to use as a spice bag. Pinch cardamom pods to break. Center all the spices on the square, fold up, and tie.
2. In a large slow cooker, combine spice bag, wine, water, frozen juice concentrate, and honey. Cover and cook on low-heat for 4 to 6 hours or on high-heat for 2 to 2½ hours.
3. Remove and discard spice bag. Ladle drink into glasses and garnish with cranberry and orange.