Rosie Perez said she's had lesbian fling, calls herself 'quasi-straight'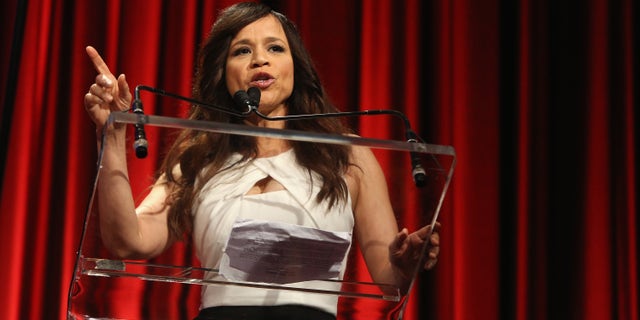 Surprising a lot of people, actress Rosie Perez revealed she had a past relationship with a woman and that she is "quasi-straight."
The "View" co-host, speaking at the TrevorLive New York event earlier this week, opened up about a time in her life when she was questioning her sexuality and how scary it was for her.
"Every human being, whether they want to admit it or not, went through a period of questioning. I know I did," Perez admitted during her speech.
The Puerto Rican actress said her questioning began when she met a girl named Michelle in junior high and she wanted to have sex with her.
"And I suppressed the urge and suppressed the urge and suppressed the urge until Michelle one day started humping on me," Perez continued.
The 50-year-old, who is married to artist Eric Haze, said she didn't have organizations like the Trevor Project – one of the leading national organizations providing crisis intervention and suicide prevention services to LGBT youth – to turn to for advice.
"I'm not the only one that went through this questioning period. I'm not the only one that suppressed those feelings. Who hid their story," she added. "I know I'm not lesbian, gay or whatever, I'm a quasi-straight person, I still went through that period. And I thought I was all alone."
Perez said her relationship with Michelle ended and it was the hurt that "kept me silent and that silence brought shame."
"I didn't have a community. I didn't have the Trevor Project," she said.
Perez ended her speech with, "There's no such thing as normal. What is the norm is being different."