Ronan Farrow ex-producer says NBC told them to stop reporting Weinstein story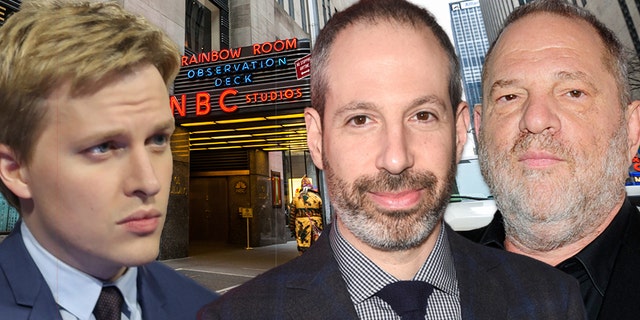 A former NBC News producer who was working with Ronan Farrow on the reporter's investigation of alleged sexual misconduct by Harvey Weinstein claimed Thursday that an order to stop pursuing the bombshell story came from "the very highest levels at NBC."
In a statement to Fox News, Rich McHugh, who left the network's investigative unit earlier this month, said the order came as he and Farrow were preparing to travel to Los Angeles to interview a woman "with a credible allegation of rape" against the now-disgraced movie producer.
"I was told not to do the interview and ordered to stand down, thus effectively killing the story," McHugh said. "That was unethical, and a massive breach of journalistic integrity.
"Is there anyone in the journalistic community who actually believes NBC didn't breach its journalistic duty to continue reporting this story?" McHugh added. "Something else must have been going on. "
McHugh's statement came after the New York Times and the Daily Beast published reports with new details of the Weinstein story's life and death at 30 Rockefeller Plaza.
In response to McHugh's claim, NBC News President Noah Oppenheim told the Times that McHugh "was never told to stop in the way he's implying."
Later, NBC issued a statement.
"The assertion that NBC News tried to kill the Weinstein story while Ronan Farrow was at NBC News, or even more ludicrously, after he left NBC News, is an outright lie," the statement said.
The Daily Beast report also claimed that NBC News general counsel Susan Weiner made phone calls to Farrow in which she threatened to "smear" him if he continued to report on Weinstein after the network spiked the story.
The Daily Beast further reported that one of Weinstein's attorneys threatened Farrow by stating that NBC News had assured the attorney in writing that Farrow would not use any information he obtained about Weinstein while reporting the story for the network.
Farrow ultimately won a Pulitzer Prize for his reports on sexual misconduct by Weinstein and other powerful men, which ultimately saw the light of day as a series of articles in The New Yorker. He left NBC months ago.
"NBC has some of the finest journalists in the business -- this is not about them," McHugh told Fox News. "This is about the leadership at NBC."
Both reports detail the timeline of the story. According to the Daily Beast, Farrow and McHugh pitched a story investigating Hollywood's notorious "casting couch" practices in January 2017. The story originally was meant to air around that year's Oscars.
Oppenheim told the Times that he suggested Farrow interview actress Rose McGowan, who previously had claimed to have been sexually assaulted by a Hollywood executive. The Daily Beast reported that Farrow landed an on-the-record interview with McGowan in February of last year.
However, the executive editor of NBC's investigative unit, Rich Greenberg, told the Times that McGowan "pulled out" and declined to name Weinstein as the executive who attacked her.
"We didn't have a credible accuser on the record, on camera," Greenberg told the paper, echoing comments made by Oppenheim.
"We repeatedly made clear to Ronan and Rich McHugh the standard for publication is we needed at least one credible on-the-record victim or witness of misconduct," the NBC News president told the Times. "And we never met that threshold while Ronan was reporting for us."
Both men pursued the story until August of last year, when the Times reported that Farrow asked Oppenheim if he could take the story to another outlet. Oppenheim, in the paper's telling, gave his permission only for Farrow to request an NBC camera crew for the trip to Los Angeles days later.
"We said: 'You've asked for permission to go elsewhere. You can't use an NBC camera crew for another outlet. You can do whatever you want to do. And you don't work for us,'" Oppenheim said.
"As a journalist for 16 years I do know that when you have a an explosive story you never let it walk out the door," McHugh told Fox News. "You keep digging for more so you can publish it at your network. NBC owed it to those brave women who spoke to us to get their stories out."
After the reports were published, ABC News reporter Chris Francescani tweeted his support for Farrow and McHugh.
"I worked in the @NBCNews Investigative Unit in the fall of 2016," Francescani wrote. "@RichMcHughNBC and @RonanFarrow are telling the truth. @NBCNews executives are not."
Fox News' Brian Flood contributed to this report.