'Real Housewives' star Luann de Lesseps caught in bed with male pal before drunken arrest, report says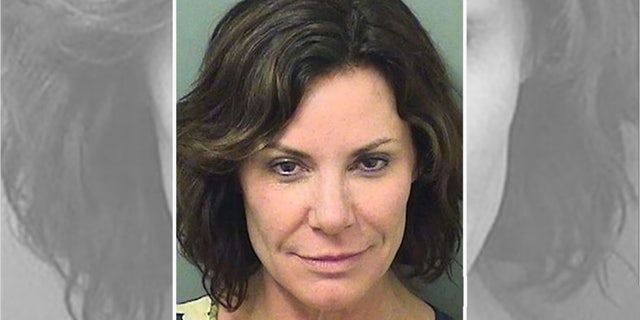 "Real Housewives of New York" star Luann de Lesseps drunkenly attacked a Florida cop after she was discovered trespassing in a hotel room — and in bed with an unidentified man, according to a police report released Tuesday.
De Lesseps, 52, and her male pal allegedly entered Room 407 at the Colony hotel in Palm Beach while a maid was finishing a turn-down service Saturday night.
A security guard who went to the room found the couple in bed there and told de Lesseps — who was registered to stay in Room 327 — and the man they had to leave, the report says.
Following "multiple attempts to get both subjects to leave over a five minute period," the guard called for help, and two cops arrived around 9:20 p.m., finding de Lesseps and her longtime friend Julie Olson in the room.
'HOUSEWIVES' STAR ARRESTED AFTER DRUNKEN RAMPAGE
Both women "appeared to be highly intoxicated," and while Olson followed orders to leave, de Lesseps locked herself in the bathroom and refused to come out, the report says.
She finally opened the door when the guard began using a key on the lock, then allegedly shoved one of the cops — identified as "Officer O'Leary" — in the chest with her palm, then slammed the door on his face, "striking him in the forehead," the report says.
After being handcuffed and put in the back of a police cruiser, de Lesseps allegedly slipped out of the shackles and tried to escape, screaming, "I'm going to f--king kill you" as the cops subdued her again.
She continued vowing that she was "going to f--king kill all of you" to both cops as she was brought back to the Palm Beach police station and tossed into a holding cell, the report says.
De Lesseps was released without bail Sunday morning after appearing in court on five counts, including battery of a law enforcement officer and resisting an officer with violence.
She later apologized for her behavior, tweeting that her visit to Palm Beach triggered "long-buried emotions" tied to her short-lived marriage to Tom D'Agostino Jr., whom she wed there on Dec. 31, 2016.