Raw Data: Kim Novak's Full-Page Ad Against 'The Artist' in Variety Magazine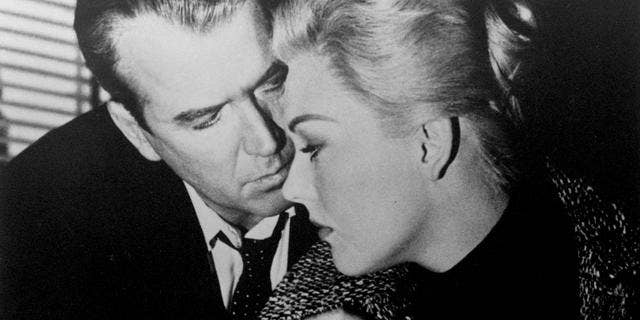 Below is the full text of "Vertigo" star Kim Novak's ad against the film "The Artist," which appeared in the January 10 2012 issue of Variety magazine:
FROM THE DESK OF
KIM NOVAK
I WANT TO REPORT A RAPE.
I FEEL AS IF MY BODY—OR, AT LEAST MY BODY OF WORK—HAS BEEN VIOLATED BY THE MOVIE, "THE ARTIST."
The film could and should have been able to stand on its own without depending upon Bernard Herrmann's score from Alfred Hitchcock's VERTIGO to provide it more drama. Much of VERTIGO's music was written during, not after, filming—that was the way Hitchcock worked. The Love Theme was woven musically in with the puzzle pieces of the storyline. In my opinion, the combined efforts of the composer, director, Jimmy Stewart, and myself were all violated.
I AM THE ONLY ONE WHO CAN SPEAK NOW. They didn't need to use what I consider to be on of the most important love scenes in motion picture history by playing the VERTIGO score and using emotions it engenders as if it were their own. Even though they gave a small credit to Bernard Herrmann at the end, I believe this to be cheating, at the very least. Shame on them!
IT IS MORALLY WRONG FOR THE ARTISTRY OF OUR INDUSTRY TO USE AND ABUSE FAMOUS PIECES OF WORK TO GAIN ATTENTION AND APPLAUSE FOR OTHER THAN WHAT THEY WERE INTENDED. IT IS ESSENTIAL TO SAFEGUARD OUR SPECIAL BODIES OF WORK FOR POSTERITY, WITH THEIR ORIGINAL AND INDIVIDUAL IDENTITIES INTACT AND PROTECTED.
Kim Novak