Rashida Jones admits the comedy was hard on her new series 'Angie Tribeca'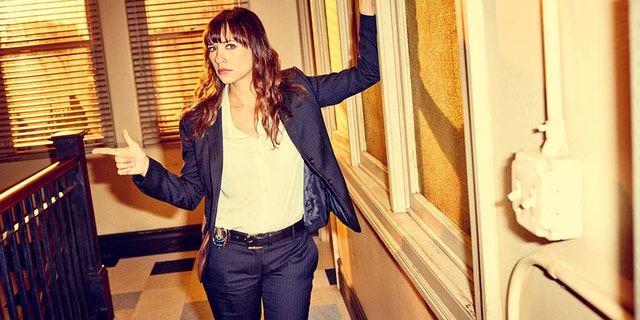 NEWYou can now listen to Fox News articles!
Fans of "The Office" will be happy to learn that Steve Carell and Rashida Jones are together again for the new comedy "Angie Tribeca."
This time out, Carell and his wife Nancy are the brains behind the silly series about a squad of LAPD detectives who investigate a wide variety of cases, everything from the murder of a ventriloquist to a string of baker suicides. Jones plays the title character, Angie Tribeca, a dedicated, lone-wolf cop, who will do whatever it takes to close her case.
Think: "Police Squad," or the "Naked Gun" film series, with their sight gags and non-sequiturs and you have an idea of what the Carells were going for with "Angie Tribeca."
"To me, the key to this kind of comedy is that the characters themselves completely are committed to the task at hand, the case, and they don't see that it's funny," Jones told FOX411. "It's for the audience to pick up on."
With 10 years of combined experience on "The Office" and "Parks and Recreation" as a straight man, Jones thought she knew what to expect when she signed on. But she was in for a surprise when it came to the physical comedy.
"To be honest, it's harder than I thought it was going to be," Jones says. "I'm pretty clumsy in my own life, so it's not too hard to imagine falling down and bumping into things, and we have a giant team of people that help me."
As a woman who closes cases, Angie is none too happy when at the beginning of series, she is assigned a new partner J Geils (Hayes MacArthur). A fact she makes very clear. So much so, it is apparent that she would rather be paired with the squad's K9 cop Jagger, played by the Belgian Malinois from the movie "Max," except he already has a partner.
"Jagger is awesome. He's a better actor than me," Jones says, jokingly. Then on a more serious note, she adds, "He has a wonderful trainer. He was a puppy when he started with us. When we did the pilot two years ago, he was learning. He has had a very steep learning curve and a very successful one."
Jones also reveals that there is a very special scene coming up in an episode of "Angie Tribecca" -- which episode is still to be determined -- but in it, Jones' real-life parents -- dad is Grammy Award-winning music producer Quincy Jones and mom is former "The Mod Squad" and "Twin Peaks" star Peggy Lipton -- will play her TV parents. A first!
"They were so sweet," Jones says. "In the scene with my dad, he's wearing a golf outfit, and he's about to jump in and drive a car. Those are two things that my dad does not do. He doesn't play golf and he does not drive a car, so it was pretty adorable to see him do that for me. It's definitely because he loves me. They were great."
"Angie Tribeca" also stars Jere Burns as the squad's captain, Deon Cole as Jagger's partner Det. Danny Tanner, and Andrée Vermeulen as the medical examiner.
The rollout schedule for "Angie Tribeca" is unusual. On Sunday, Jan. 17, a 25-hour, commercial-free, binge-a-thon of the 10-episode series airs TBS. Then, for those who prefer to watch episodes weekly, Season 1 will repeat with one episode airing each Monday night on TBS beginning Jan. 25.