Rapper DMX Sentenced to 90 Days in Jail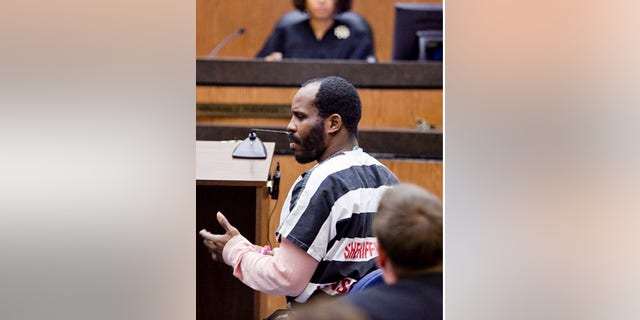 PHOENIX – Rapper DMX was sentenced to 90 days in jail Friday for convictions of theft, drug-possession and animal-cruelty charges.
DMX, whose real name is Earl Simmons, also was placed on at least 18 months' supervised probation by Maricopa County Superior Court Commissioner Phemonia Miller.
Simmons pleaded guilty Dec. 30 to three felony counts — theft, possession or use of marijuana, and possession or use of narcotic drugs — and one misdemeanor count of animal cruelty.
The 38-year-old rapper has been in the Maricopa County Jail since being arrested Dec. 9 in Miami on a warrant after failing to appear in court in Phoenix. His attorney, Stephen Lee Crawford, didn't immediately return calls seeking comment.
The Arizona Republic reported that Simmons was smiling as he entered the courtroom but sat down writhing in pain and subsequently said he had pain in his feet and knees and thought he was suffering from gout.
Miller told him she was sentencing Earl Simmons, not DMX, the newspaper reported. "I don't know DMX. Mr. Simmons, it's time you do something different," she said. "What you have been doing is not working."
Despite the prosecutor's objections, Miller said she would allow Simmons to apply to serve his sentence in Florida, the Republic said.
The animal-cruelty and drug charges stem from an August 2007 raid that Maricopa County sheriff's deputies conducted at Simmons' home in Cave Creek, a Phoenix suburb. Authorities investigating a report of animal abuse found three dead dogs, guns, ammunition and drug paraphernalia.
He was not given credit for time served and will not get out of jail until the end of April, said Mike Anthony Scerbo, a spokesman for Maricopa County Attorney's Office, which prosecuted the case.
DMX's albums include "It's Dark and Hell is Hot," "Flesh of My Flesh, Blood of My Blood" and "Year of the Dog ... Again."