QA: Andie MacDowell on colorful characters in Hollywood, not wanting her daughter to be famous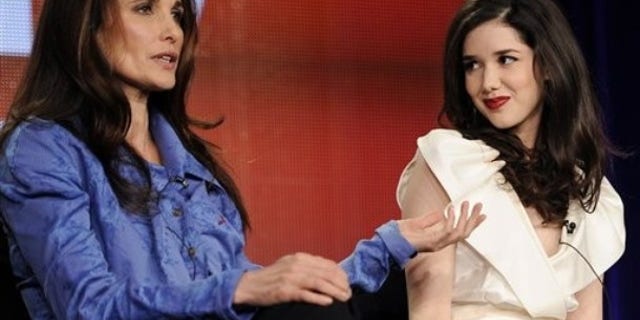 In 'Jane by Design' on ABC Family, Jane (Erica Dasher) plays a high school student who accidentally lands a job as a clothing designer at a hip fashion house. Her boss, a high powered executive, is played by Andie MacDowell.
The 53-year-old South Carolina native has had a long career, first as a model and then starring in such crowd pleasing flicks like, 'Four Weddings and a Funeral' and 'Groundhog Day.' But her most important role by far is that of mother to her three children, Rainey - who was Miss. Golden Globe this year, Sarah Margaret and Justin.
Fox411: Describe your character.
Andie MacDowell: I am the boss of this young girl who I don't realize is in high school. I am very demanding and I would say an exaggerated character. A lot of times in the fashion business you can meet exaggerated characters, people are a little over the top, definitely not plain.
Fox411: Did you meet a lot of over the top characters when you were a model?
AM: I did! You know I meet them in this business as well. I've met many what I would call, not your average person.
Fox411: Which is a more backstabbing business? Modeling or Hollywood?
AM: Now that's not a good question! How am I going to answer that? The world's tough, it's not just those businesses. Are you telling me the corporate world is not just like this? Do you think there aren't people on Wall Street who don't have anger issues? I think anytime you're dealing with people that are under the demands that any industry can cause, you're going to find whackos and I play a whacko.
Fox411: You're the oldest. Was the cast in awe of you?
AM: I found not so much that they came to me for advice... it's interesting because I don't get this, I don't feel this way, but they were initially intimidated by me. I could have used that but I didn't. But it didn't last.
Fox411: Well they grew up watching you.
AM: Yeah that's what it was. Also I wasn't on set that much so I think it took them a while to figure out I'm just a quirky, kind of offbeat person, not intimidating, let's put it that way.
Fox411: Your daughter Rainey was Miss Golden Globe.
AM: I tried to discourage (from a career in show business) but it did not work. It's not because I don't think it's a great job because I do, I love my work, but I think fame is the hard part. People don't realize it, it's a sacrifice, it truly is. Everyone thinks, well that's what you get for the big bucks but there are other ways to get the big bucks without the fame, you could be a producer. But I get it completely because I'm an artist, that's my art form. And I love the actual, physical work, the camaraderie, I like becoming someone else and so I get that she has that piece in her. Both of my daughters are artistic. My other daughter is modeling, she's in Milan right now and she's still in high school.
Fox411: Wow!
AM: I know. I have my hands full.
Fox411: Do you still live in the South?
AM: I've been living in North Carolina. Rainey's was bugging me to act since junior high and I didn't let her because I truly felt I wanted her to have a normal life. Unfortunately I wasn't able to do the same thing with my other daughter. Anyway I raised them in North Carolina and now they've chosen to not have a normal life but that's okay, that's their choice.
I do still live in North Carolina but I don't know for how much longer because I'd rather be out here (in Los Angeles). Rainey is out here and my son is in Montana which is really close and as much as I love North Carolina, I miss my work and now I'm free. I don't have kids anymore. That was a huge part of my life, the biggest part of my life, the most important part of my life. Without them I'd have no real true purpose.
Fox411: You starred in 'Sex, Lies and Videotape' which was huge.
AM: It changed the business. I saw Harvey Weinstein last night and I said, 'Do you remember me?' and he goes, 'Yes! You gave me the movie that got me my start.' It changed the way people looked at independent movies.