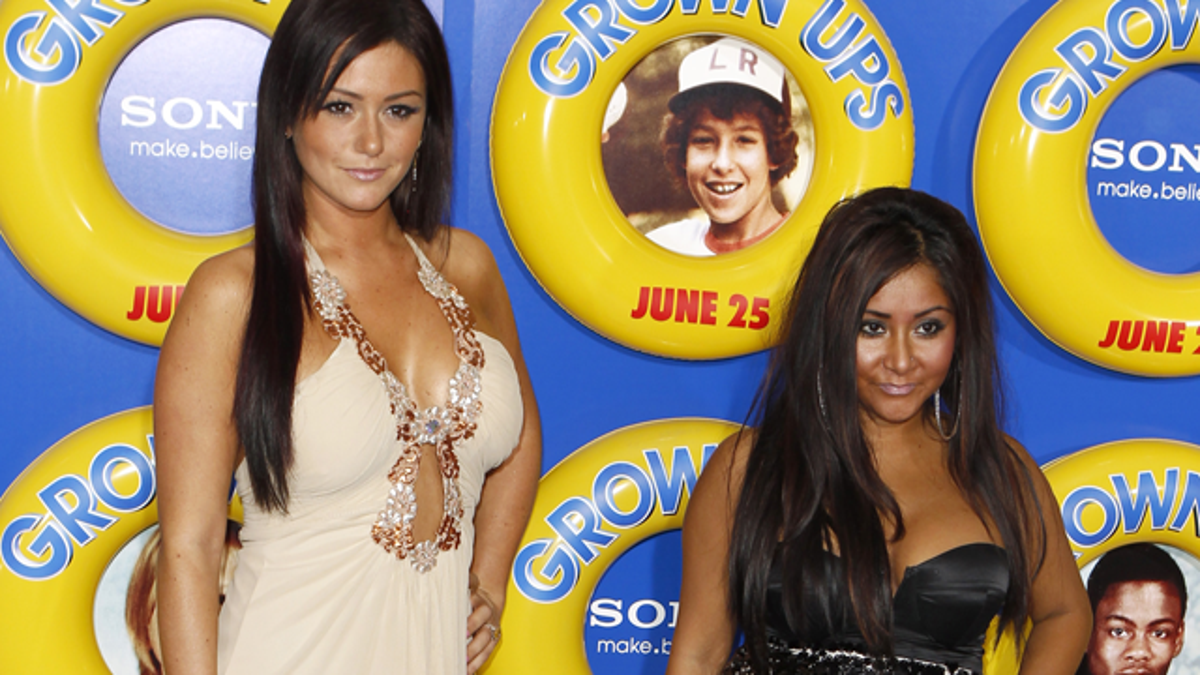 Most women hunker down in their first few months of pregnancy.
Nicole "Snooki" Polizzi is not most women.
The "Jersey Shore's" hard-partying meatball hasn't let a bun in the oven slow her down one bit. Polizzi was spotted heading out for an evening of partying at the wee hour of 1 am on Wednesday night in the only place more depraved than the Jersey Shore—Cancun.
Snooki is in the Mexican party mecca with her "Shore" co-star Jenni "JWoww" Farley, filming episodes for their upcoming spin-off show on MTV.
Reports earlier this week said that the pair were heading south of the border to stay at the Cancun Beach Palace in order for Snooki to get some much needed rest and relaxation after the media whirlwind surrounding her pregnancy bombshell.
And for the most part the pair have been lounging by the pool, except for their late night excursion to hit the town, witnessed by a throng of fellow revelers.
A bartender did confirm to Fox411 that although Polizzi was sipping drinks at the hotel, they were virgin daiquiris.
Cancun is currently in full Spring Break mode and the Beach Palace hotel is swarmed with college students ready to get their party, not to rest and relax. Many of those college students told Fox411 that they had been asked to sign several nondisclosure agreements about the Shore girls' visit in order for them to be allowed to participate in filming for the reality series.
We overheard one underclassman query another, "Snooki is here man, you should try to tap that." His friend replied. "Ewwww, she's pregnant."
"There's no place in the world that screams 'crazy spring break' more than Cancun so it is an odd vacation choice for a pregnant woman especially one like Snooki who has a history of hard-partying," said In Touch Senior Editor Dorothy Cascerceri.
Polizzi announced her pregnancy on the cover of US Weekly magazine just a week ago, admitting that she is just into her second trimester.
"I have different priorities now," Snooki told the mag. "I don't care what anybody else thinks. As long as I know I'm ready and he's ready."
To be fair, Snooki does have a reality show to film and with the temperatures hovering in the forties at the Jersey Shore, Cancun does offer the opportunity for MTV to film the two women interacting with their fans in a party setting before Polizzi gets too far along in her pregnancy.
Requests for comment to both MTV and Polizzi's representative were not returned.
But maybe, even sans daiquiri, being in Cancun while pregnant is like being at the Shore while drunk. In her first televised interview this week Snooki admitted, "Pregnancy sickness is just like you're hung over."