Playboy's Playmate of the Year Nina Daniele says she's a feminist: 'We're not forced to pose nude'
Nina Daniele thought she was in big trouble when Playboy's chief creative officer and Hugh Hefner's son Cooper said he wanted to speak with her.
"I'm walking over to Cooper's office and everyone was looking at me," the model recalled to Fox News. "I just kept thinking to myself, 'Did I do something wrong?' I sat down and I just started sweating… I felt like every part of me was dripping with sweat."
It turned out the 26-year-old mogul had chosen Daniele as Playmate of the Year for the men's lifestyle magazine. The Bronx native was the first Playmate of the Year named since the death of Hugh Hefner in 2017 at age 91.
"[Cooper] was like, 'We were wondering if you would do us the honor of being our Playmate of the Year in 2018,'" recalled Daniele. "It was just one of those surreal moments.
"I asked him, 'Is this really happening? Did you ask me? Did you really ask me?' And he's like, 'What do you mean? Of course I just asked you.' With a completely straight face… I just couldn't believe it was really happening to me."
Daniele's 11-page pictorial, shot by fashion photographer Jennifer Stenglein, pays homage to the Femlin, a pinup character illustrated by Leroy Neiman for Hefner. The Femlin first appeared in the May 1963 issue of the magazine.
Daniele previously appeared in Playboy's March/April 2017 issue as the April Playmate of the Month when nudity was re-introduced. Playboy temporarily stopped featuring nude pictorials in 2015.
The cover girl, who proudly identifies as a feminist, said the issue has given her a platform to share her beliefs with both men and women – something Hefner would be proud of.
Cooper also revealed the publication ditched their slogan, "Entertainment for Men," and instead chose a new motto: "Entertainment for All." The May/June 2018 issue also includes an interview Cecile Richards, president of Planned Parenthood.
"I think being Playmate of the Year is something I'm extremely passionate about," said Daniele. "It's given my place in the [Time's Up and #MeToo] movements we're experiencing as women. It allows me to voice my opinion and to have a foundation to stand on… I'm especially honored to be part of the issue that is entertainment for all because it's means we're women supporting women. It's not just entertainment for men anymore. It's entertainment for.
"Whoever decides to read these articles and experience these stories, it's not just designated for men. And that gives women another platform to support each other… [And Playboy] is always progressive. It's always been ahead of its time… And Playboy has always been a place that supported women."
Daniele is aware being a feminist who goes nude may raise eyebrows. However, she insisted the magazine gave her the freedom to unveil what she really wanted to show in front of cameras.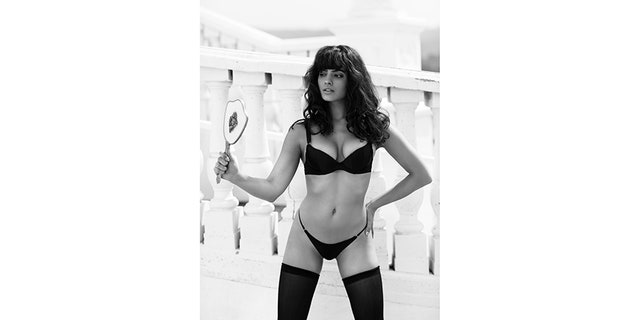 "We're not forced to pose nude," she said. "It's a choice we make. And that's our right. As a woman, I have the right to those choices. And Playboy has given me a choice… We were in a controlled space where I was allowed to show what I wanted about my body, what I felt comfortable with. I never once felt uncomfortable or objectified.
"It always felt we were creating something beautiful. And I don't think there's anything to be ashamed about that… This is my body and this is what I was born with."
Daniele hopes her racy snaps will inspire other women to feel more confident about themselves.
"As a woman, we all see flaws within ourselves and it's important to embrace them," she said. "This is who I am. If you don't like it, that's not really my problem… Playboy has never objectified women. It has only held them on the highest of pedestals. It's given us a place and a platform to speak our mind.
"We feel we're at home with ourselves. We have a place in a world that sometimes doesn't give us what we deserve… I don't think Playboy objectifies women."
Daniele pointed out to a 2009 interview Hugh Hefner did with Time Magazine where he was asked about his views on feminism.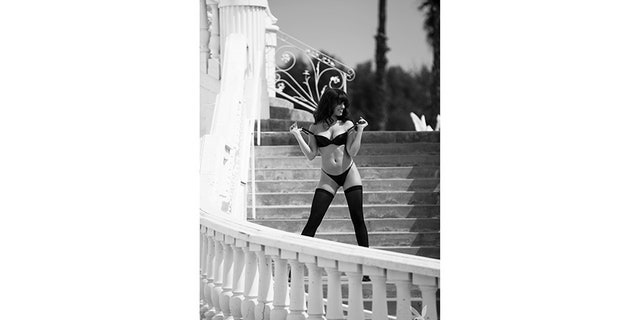 "I'm an active humanist," Hefner said at the time. "I separated ways from the American feminist movement when they became anti-sexual. I believe embracing sexuality is a part of what it means to be free."
She said it embodies the future of the magazine and its goal to support both its male and female readers.
"I think we all want equal rights and we all want to be treated with the utmost respect," she added.
And as for the Femlin, a retro-inspired figure? Daniele said she's still the ideal model for Playboy.
"She's this spontaneous, spunky, smart, mischievous, tiny little woman who sticks herself in between places," said Daniele. "She's the life of the party… She has all of these wonderful characteristics, but she's also impervious to society's beliefs and restrictions. They don't apply to her… Society's restrictions don't apply to any of us at all.
"We need to show society that women as a whole, we are impervious to those restrictions. That's what she stands for. Even though I'm on the cover, it's me, but I'm the Femlin. I am portraying what she stands for… It's a homage to her and how Hef viewed women in society."
For the pictorial, Playboy connected Daniele with 1958 Playmate and fellow Bronx native Joyce Nizzari. The now-77-year-old gave the new star sage advice on how to cope with all the newfound attention.
"She said, 'Enjoy this moment,' revealed Danielle. "Since I've done Playboy, I've had so many women approach me, especially via social media, about how they wanted to pose for Playboy, but they were always afraid of what other people would say.
"It's not about what other people think of you. It's all about you and what you think of yourself… I would regret it if I ever let anyone's opinion affect the way I view myself or change this moment. I worked really hard to get here."
And Daniele hopes her issue will also spark conversation on a hot topic.
"As a woman, I think it's hard not to identify as a feminist," she said. "… I think being a feminist at this time is crucial. If there's going to be a change for the better, we all need to be a part of this movement forever."
The latest issue of Playboy is currently on newsstands.