Playboy names Jenny Watwood as March 2018 Playmate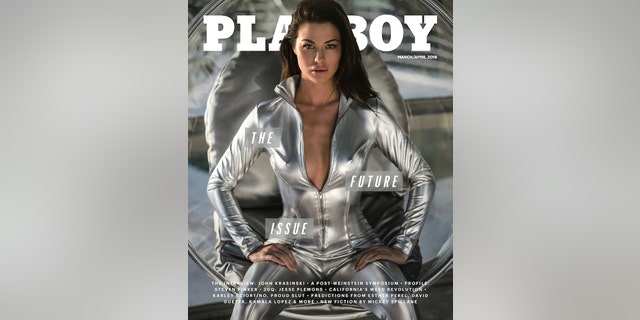 NEWYou can now listen to Fox News articles!
Playboy has crowned Jenny Watwood as its newest Playmate for their March/April 2018 issue and the model is baring all for her first nude pictorial.
The Arizona-raised model told the magazine Tuesday it's a goal she's been wanting to accomplish for a long time.
"At the end of December I wrote down some goals," she explained. "I thought, 'You know what? I want to shoot for Playboy.' I wrote it down and texted the owner of my agency, 'What can you do for me?'"
The brunette beauty, who currently resides in Los Angeles, insisted she didn't have to go under the knife to make that dream a reality.
"I'm all natural… My lips are just puffy, and I have smile lines because I laugh all the time," said Watwood. "These lines have great memories in them – I'm not doing anything to change them."
But the cover girl wasn't always busy posing in front of cameras. Before appearing Playboy, Watwood starred on a variety show in Rome, titled "Ciao Darwin." Even Watwood admitted it wasn't something she would have done in the United States if given the opportunity.
"Italian television is very strange," said Watwood. "The show wasn't the type of thing I would have done in the U.S., but it is iconic. I played 'Madre Natura.' I would say a few things to the other hosts, then go sit and spin a globe. It was nuts.
"When people ask me what I do, I usually tell them I'm in the fashion industry. To be honest, I try to avoid saying 'model' in the first 10 or 15 minutes. I want to be thought of as a person, not a mannequin."
And to maintain her natural features, Watwood doesn't mind indulging in some guilty pleasures, even if they may raise some eyebrows.
"My go-to drink is Macallan with one ice cube," said Watwood. "I like whiskey and other dark liquors, even the darker tequilas. I'll always pick añejo over silver. All my friends are like 'No – silver, light!' And I'm like, 'I like the dark stuff.'
"Smoking pot is better than drinking, obviously. For one thing, you don't get a hangover. And I actually do things when I smoke: I smoke, I paint. I smoke, I go hiking. I'm a functioning pothead. I have a joint in my bag right now, in my mom's vintage cigarette holder."
With Watwood's latest Playboy cover, she has zero plans to slow down on her career anytime soon.
"A lot of women give themselves a time frame for getting married and having kids," she said. "Society tells you that's what you should do. But I don't know if people are capable of loving just one person for the rest of their lives.
"I've never had fantasies of marriage. I just feel like I'm still living my life… I'll probably write a book later in life. I write every day so I can look back and pick what I need for inspiration. If anyone ever got a hold of it – oh my God! But it has to be unfiltered."