Paulina Rubio's Man Confirms Divorce Drama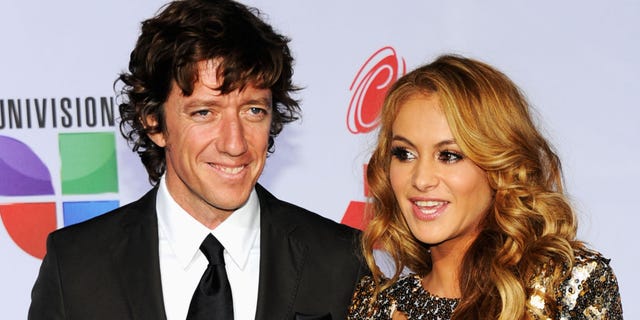 Another celebrity couple is officially calling it quits.
Spanish businessman Nicolas Vallejo-Nágera has finally confirmed after months of speculation that he and his wife, Mexican pop star Paulina Rubio, are getting a divorce.
As reported by EFE, after almost five years of marriage Nágera told Hola! magazine the details surrounding the couples split.

"It has been a decision by both of us, though it's possible that I have been more firm when it came to carrying it out," he said in an interview with the Spanish publication.
Latino Celebrities and Their Little Ones
"I have the feeling there is no going back, " Nágera said, even admitting that the couple have been living apart since November of last year and only communicate about their two year old son, Andrea Nicolas.
As PEOPLE en español reported, the Hola! magazine article contained details of Nágera and Rubio's tormented relationship-- including her anger issues and the negative environment it created for their son.
When the story broke, Rubio took to her twitter saying, "Life gives you surprises, surprises life gives you, Oh my god."
While the private star did not mention Nágera by name, many are speculating the tweet was a reference to her impending divorce.
Nágera told Hola! that even though he will always be "grateful to Paulina," his dedication to their marriage caused his career to suffer.
"I decided to help and support my wife, which has caused me many problems that are costing me very dearly," he said.
This may be why a source close to Rubio told TVNotas that Nágera is fighting for a piece of her fortune, even though Nágera will not have much to fight for.
Back in January, word leaked that "La Chica Dorada" owes over $130,000 in Florida taxes. After previously being arrested and still failing to pay back her debts, Rubio is under investigation by the IRS. They have allegedly told Rubio that she has until June to repay her debts or her U.S. assets will be seized.
Rumors of the couples split began in December of last year when Nágera was spotted solo at the wedding of José Maria Aznar Jr.
Latinos Dazzle On Oscar Red Carpet
Espejo Público said Nágera had been seen flirting with a young blonde at the wedding and that the relationship with Rubio "was very broken down."
You can reach Kacy Capobres at:
KacyJayne@gmail.com or via Twitter: @KacyJayne

Follow us on twitter.com/foxnewslatino
Like us at facebook.com/foxnewslatino