Paula Deen comic book to be released in October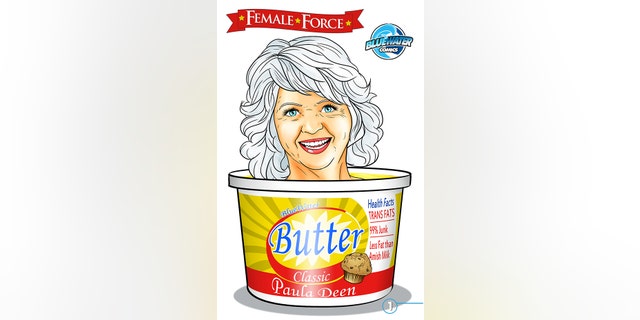 Paula Deen's story is being turned into a comic book.
The former Food Network star, who lost many of her business deals in June when news broke that she had used the N-word in the past, will be made into a comic book character for a biographical project by Bluewater Productions.
The book was in production for several months before Deen was thrust into the news for her past racist remarks, and the company said despite the controversy they are going ahead with plans to illustrate her story.
"We do not condone her use of racial insensitivities, and think that intolerance has no place in a just society," said Bluewater's president Darren G. Davis in a statement sent to FOX411. "But despite her recent failings, we also strongly believe she still has a powerful story to tell; one that fits the female empowerment model of our books."
Davis added that the recent developments in Deen's life would be added to the comic book, but it will not be the main focus of the project.
"Female Force: Paula Deen" writer Michael Troy explained that the book portrays Deen as a strong, hard-working female.
"Paula Deen is still an inspirational woman who has suffered much adversity in her life and overcome many obstacles," Troy said. "Her story is fascinating and it's easy to see why Bluewater would consider her for their Female Force line of Biography comic books that on powerful women."
Women like Angelina Jolie, Hillary Clinton, Cher and Gabrielle Giffords have all been featured in the "Female Force" biographical comic series.
Deen's comic book is set to be released in October.