Oprah to appear on 'Keeping Up With the Kardashians' in what critics call a 'risky' ratings ploy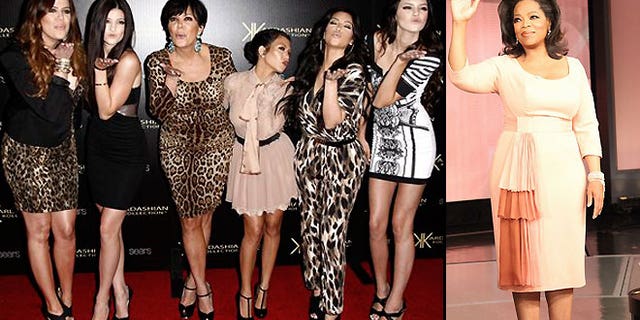 Last week, talk show veteran and founder of the OWN network, Oprah Winfrey, surprised audiences when she sat down for a two-part interview with the Kardashians, as part of her latest television venture, "Oprah's Next Chapter."
But this week, Winfrey prompted jaws to drop a little more when it was revealed that she was joining forces with the reality television family to appear on their highly-rated E! show "Keeping Up With the Kardashians," making the most of the footage filmed for the interview at mom Kris Jenner's Los Angeles home.
Winfrey justified the appearance by saying that when she met Khloe and Kim while interviewing them for her network, OWN, she respected them and fell in love.
But is there something a little off about this sudden bond between Winfrey, whose network has reportedly suffered disappointing ratings since its debut last January, and the reality family who ultimately shot to fame following the release of daughter Kim's sex tape with singer Ray-J?
Is this Winfrey's attempt to appeal to a younger demographic, or a ploy to bounce off the reality program's sky-high ratings?
"Like them or not, America is fascinated with the Kardashian family, and it is only natural that Oprah would appear with a younger celebrity brand. The facts are that the Kardashians garner regular impressive ratings for E! and Oprah needs to do anything she can to attract ratings for her far less successful network," Ronn Torossian, CEO of 5WPR and author of the PR book "For Immediate Release." "Oprah isn't on a major network anymore, and anything she can do on-air to attract increased media attention could help spark audience numbers. Kim too is a mega-marketer, and she will push the Oprah relationship widely. "
RELATED: Kim Kardashian admits her sex tape introduced her to the world.
And according to crisis management expert Glenn Selig, Winfrey seems to be trying to re-capture some of that Midas touch that led to her fame and fortune, but it could backfire.
"Her name alone has not made OWN a success, nor has her management style or sweat equity," he explained. "It's a risky maneuver for Oprah to tie herself in with a family who is toxic to so many people. Oprah is a true celebrity who is universally well-liked. She is aligning herself with a controversial reality show star which could cheapen her own image."
Prior to the Kardashian interview, the former "Queen of Daytime TV" also raised eyebrows with a candid two-part interview with controversial rapper 50 Cent – effectively ending their six-year feud –and fueling speculation that she may be getting desperate for more (or at least younger) eyeballs.
[pullquote]
"It seems Oprah is looking to create headlines from interviews with people like 50 Cent. I think the public will see her as someone who is trying – at times desperately – to get back in the game and stay relevant," Selig continued. "It is a risky strategy."
RELATED: Kim Kardashian gushes about Kanye West to Oprah
Still, other media industry experts argue that the Winfrey/Kardashian show swap is of big benefit to both camps.
"Oprah didn't become successful through luck; she is a smart business woman who doesn't do anything without thought for her brand, finances and future. Watch this space … it won't be long before we perhaps see a Kardashian hosting their own show on the OWN network," added business reporter and media training consultant, Louise Pennell. "It's a smart partnership and a win-win for both parties. After all, it is all about publicity and hype, and this 'new found friendship' is stirring up both those things."
And across the Twitterverse, the relationship has attracted a mixed bag of reactions.
"Does Oprah know that she's Oprah and doesn't have to do this sort of thing anymore?" tweeted one, while another wrote "Still don't get why people are questioning Oprah's decision. The Kardashians [are] such a cultural phenomenon. Plus it's good for both."
A spokesperson for OWN responded to a request for comment, noting that "there was a camera crew from 'Keeping Up With the Kardashians' on site when Oprah filmed her interview with the family for 'Oprah's Next Chapter.'"