On Screen Square-Off: Conan O'Brien and N.J. Mayor Bring Their 'Feud' to TV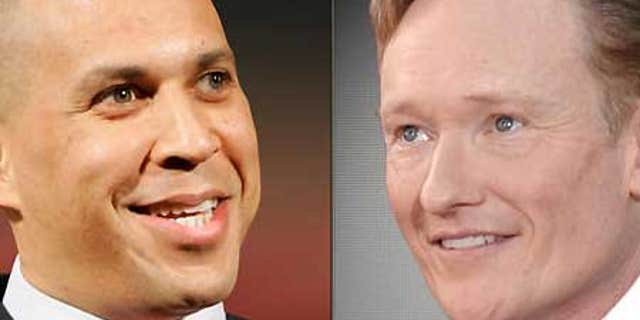 NEWARK, N.J. – Conan O'Brien and Newark Mayor Cory Booker turned their frivolous feud about the gritty city into comedy on NBC's "Tonight Show" on Friday.
The chatty 40-somethings worked off one another like a comic duo. But the jokes eventually gave way to a plug for Booker's efforts to fashion a national blueprint for urban transformation in Newark, long an icon for urban decay, and a $100,000 donation to his Newark Now charity from O'Brien and NBC.
Booker's appearance on O'Brien's show culminated a facetious feud that began Sept. 23 with O'Brien joking that Booker's new health care program consisted of a bus ticket out of Newark, which is just west of New York City and is often scarred by violence. The mayor responded with a humorous video on YouTube in which he banned O'Brien from Newark Liberty International Airport.
"Many jokes are made about Newark by comedians," O'Brien said on Friday's show. "You honed in on me like a cruise missile. Why me, Mayor Booker?"
"When there's a herd going after you, you have to sort of look at the weakest gazelle," Booker joked.
The 15-minute segment, taped in California, confirmed Booker's newfound status as a national figure in U.S. politics, said Robert Thompson, a Syracuse University professor of television and popular culture.
"They were like Abbott and Costello," Thompson said. "Those two could go on the road."
The symbiotic relationship comes at an ideal time for O'Brien, who took over as "Tonight" host in June, after Jay Leno's 17 years on the job. The show averages about 2.6 million viewers a night with O'Brien, compared with more than 4.5 million for Leno, and has been trying to attract younger viewers.
Booker already is a darling of that demographic thanks to a new media pedigree that includes 839,000 followers on the Twitter online social network. His first response to O'Brien on the YouTube video file sharing site has been viewed more than 183,000 times.
Those numbers dwarf Newark's 281,000 residents.
The 40-year-old Booker is one of the youngest elected leaders ever invited onto the iconic show, whose usual political fare consists of senators and former presidents. U.S. Sen. John McCain, who lost to Barack Obama in the November presidential election, was the last political guest in the studio.
Booker has become an entertainment media darling the past year with appearances on HBO's "Real Time With Bill Maher" and "The Colbert Report" on Comedy Central. He's also featured prominently in the Sundance Channel's "Brick City" documentary series.
He's the first Newark mayor to appear on the "Tonight Show" and the first to garner positive national attention for the city, said Steve Adubato, a local political power broker who allied himself with Booker this year after a lengthy rivalry.
"The only time a Newark mayor made national headlines before Cory Booker was when they were indicted or went to jail," Adubato said.
Booker's three predecessors have been in trouble with the law. One of them, Sharpe James, is in prison for his role in the cut-rate sale of city land to a former mistress.
O'Brien admitted admiring Booker, who described himself Friday as a longtime fan of the "Tonight Show."
"Sometimes on the toughest days you make me laugh," Booker said.
There's no shortage of tough days in Newark, whose port, warehouse, trucks and airport keep nearby New York City humming.
Homicides are down 36 percent since 2005, when James was in office. However, Newark is still periodically convulsed by shocking violence, like the execution-style slayings of three college-bound students in the summer of 2007. Its unemployment rate was 14.7 in August.
O'Brien, 46, is the latest in a long line of celebrities to embrace Booker and what the former Rhodes Scholar is trying to accomplish in Newark. Their ranks include Jon Bon Jovi, media mogul Oprah Winfrey, basketball player Shaquille O'Neal and actors Brad Pitt and Ashton Kutcher.
"It was one joke," O'Brien quipped, "and, man, was it expensive."