Naya Rivera To Sing 'If I Die Young' In Cory Monteith Tribute Episode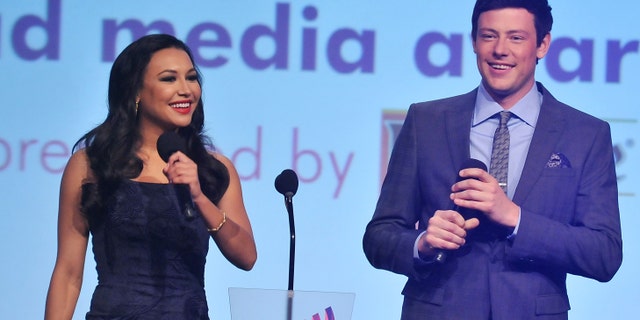 "Glee" is going to be tough to watch this week.
On Thursday, the cast and fans of FOX's hit show will say good-bye to Finn Hudson — and by extension to actor Cory Monteith.
MTV News released the song list for the special tribute episode, called "The Quarterback." Among the songs is a haunting performance of The Band Perry's "If I Die Young," by Monteith's friend and co-star Naya Rivera.
In a recent interview with Access Hollywood, Rivera briefly spoke about the episode saying it was very difficult to shoot.
"I think we are doing a good job with the episode and it's important to do because there are so many fans who love him just as much as we do, but it's still hard."
Monteith died after taking a lethal heroin-alcohol mix in July. He was 31.
Rivera said she was in London when she heard the news of his death.
"It's just absolutely shocking. Completely floored me," she said. "I still can't believe it."
Other songs in the tribute episode include "Seasons of Love" from the musical "Rent," The Pretenders "I'll Stand By You," "Fire & Rain" by James Taylor, "No Surrender" by Bruce Springsteen and Adele's version of Bob Dylan's "Make You Feel My Love" – sang by Monteith's on- and off-screen girlfriend Lea Michelle.
Details about his character's death on the show have not yet been confirmed. Show creator Ryan Murphy recently said the episode was "incredibly difficult to work on."
All proceeds generated by the tribute episode's music will go to Project Limelight Society, an arts organization in Monteith's native Canada.
Follow us on twitter.com/foxnewslatino
Like us at facebook.com/foxnewslatino