Naya Rivera, Demi Lovato Among Winners At People's Choice Awards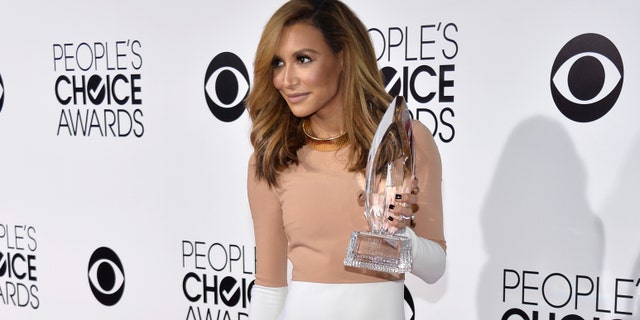 Singer Demi Lovato decided to not attend the 40th annual People's Choice Awards at the Nokia Theatre in Los Angeles on Wednesday night as part of a break she's taking before her next tour begins, but that did not stop her from feeling the love. Lovato was named favorite female artist, and her "Lovatics" were named favorite music fan following.
After the show, the 21-year-old singer tweeted her love to them.
"I told you my LOVATICS are THAAAA SHIIIITTTTTTTTTTT!!!!!!!!!" she wrote, followed by, "I'M. SO. EXCITED!!!!!!!!!!!!! Thank you guys SOOOOOOOO MUCH!!!!!! #FavoriteFemaleArtist #FavoriteMusicFanFollowing #ILOVEMYLOVATICS!!!!!"
Taking home one of the first awards of the night were Lovato's "Glee" co-stars Naya Rivera and Lea Michele for favorite TV gal pals.
Rivera, who debuted lighter, blond locks on the red carpet and presented co-star Chris Colfer with the award for favorite TV comedic actor, did not accept her award during the TV broadcast. Like Lovato, she took to Twitter to thank fans for voting.
"Thanks so much to everyone who voted for @msleamichele and I! Favorite tv gal pals!!! #PeoplesChoice." Rivera followed that up by sending out a series of pictures on Instagram from the red carpet and the award show.
The evening's top winner, taking home four trophies, was Sandra Bullock.
The actress was named favorite movie actress, comedic actress, dramatic actress and shared the favorite movie duo award with "Gravity" co-star George Clooney. Alfonso Cuarón's space thriller, which is currently nominated for the Golden Globes and the BAFTAs, took home the award for favorite dramatic movie.
Bullock's buddy comedy, "The Heat," co-starring Melissa McCarthy, was awarded favorite comedic movie. It beat out this summer's surprise box office hit "Instructions Not Included" by Mexican director Eugenio Derbez.
Fans voted Ellen DeGeneres their favorite daytime TV host, making her the woman who has won the most People's Choice Awards with a total of 14.
"As a young girl growing up in New Orleans, if anyone would have told me I was going to win 14 People's Choice Awards I...I mean 12, yes. 13, maybe. But 14?" joked DeGeneres, host of "The Ellen DeGeneres Show," who said that she wanted to make the show for everyone from old, young, black, white, gay and straight.
"Iron Man 3" netted three awards including favorite movie, action movie and the film's star, Robert Downey Jr., received the favorite action movie star honor.
Justin Timberlake also took home three awards. Among them was favorite album for "The 20/20 Experience." In a sweet moment, he thanked his "beautiful wife," Jessica Biel, "for teaching me patience and the little things like just putting the dishes in the dishwasher. It goes a long way. Fellas, you're welcome."
Katy Perry, who was not at the show, scored the win for favorite video for the third year in a row, following up last year's award for "Part of Me" and 2012's honor for "Last Friday Night" with this year's "Roar."
A pregnant Drew Barrymore, who joked that DeGeneres had called her fat backstage, presented her "Blended" co-star, Adam Sandler, with the comedic movie actor award.
After debuting her talk show "The Queen Latifah Show," fans crowned Queen Latifah their favorite new talk show host.
Ian Somerhalder and Nina Dobrev, the stars of "The Vampire Diaries," earned the award for best on-screen chemistry. The duo, who had their round of break-ups and make-ups both on-screen and off-, joked about their coupledom.
"The good thing is chemistry," said Dobrev, with her arm around Somerhalder, whom she is no long romantically attached to.
Stephen Colbert won the favorite late night talk show host award, Britney Spears picked up the favorite pop artist honor and Kaley Cuoco received the favorite comedic TV actress prize, and "The Big Bang Theory" was tabbed as the favorite TV comedy.
Jennifer Hudson received a humanitarian award for her work with children. The Oscar-winning actress created the Chicago-based Julian D. King Gift Foundation with her sister, Julia, in honor of her nephew, Julian King, who was murdered in 2008 at the age of 7.
Accompanied onstage by Julia, Hudson accepted the award while fighting back tears. "My mother always taught us, without family you have nothing," Hudson said. "Whether you know it or not, we all are family. What happens to the other happens to us. It's one thing to be a celebrity and have power, but it means nothing if we're not making a difference and helping someone else. It feels good to see positivity acknowledged. Where we come from all you hear about is who shot who and who went to jail. There is more to life than the block you live on."
Based on reporting by the Associated Press.
Follow us on twitter.com/foxnewslatino
Like us at facebook.com/foxnewslatino