Navy SEAL drama 'Lone Survivor' screened in advance of UCLA Bruins game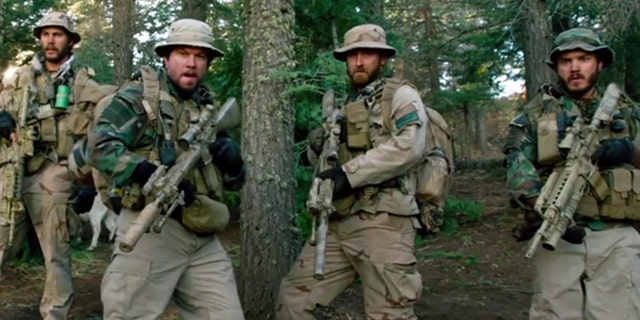 LOS ANGELES – The UCLA football team got some special motivation before their last game.
According to an inside source, the Bruins were treated last week to a special advanced screening of the Peter Berg-directed "Lone Survivor" ahead of their game against the Colorado Buffaloes in an effort to inspire the team.
"It went great," the source told FOX411, adding that the film, which stars Mark Wahlberg, Eric Bana, Emile Hirsch, Ben Foster and Taylor Kitsch was very well-received.
And clearly it rubbed off. The Bruins went on to achieve a 45-23 victory at the Rose Bowl in Los Angeles on Saturday.
Based on the harrowing real events documented by Marcus Luttrell in his 2007 best-seller "Lone Survivor: The Eyewitness Account of Operation Redwing and the Lost Heroes of SEAL Team 10," the film tells the story of SEAL Team 10's failed 2005 mission, dubbed "Operation Red Wings," which sought to capture or kill a notorious Taliban leader during the war in Afghanistan.
"When I started doing speaking tours, that was to keep the memory of my team mates alive," said Luttrell, who went on to receive the Navy Cross for his actions during the mission. "No matter how times I got up to tell that story or how many times I read that book, it's nothing compared to how many people will watch that film... So my job is done. Mission complete."
The highly-anticipated film, which some are already putting into the possible Oscar-nod category, is set to make its world premiere during the AFI Film Festival in Hollywood on November 12, and is then slated to hit select theaters on December 27 before rolling out nationwide on January 10.
The distributing studio, Universal Pictures, did not respond to a request for comment and a representative for the UCLA athletics department was not able to comment, citing NCAA rules which prohibits the endorsement of any commercial products, including movies.
Texas Tech University is also set to present the "Lone Survivor Game" this Saturday when the Red Raiders take on the Kansas State Wildcats at Jones AT&T Stadium. The game seeks to put a national spotlight on the Lone Survivor Foundation and pay tribute to our nation's veterans as well as the active duty personnel of the United States military. In addition, Texas Tech will host more than 400 Purple Heart recipients and their families, marking the biggest gathering of its kind in our country's history.
"The sacrifices of so many brave men and women, including Marcus, give all us all great reason to pause and reflect on their service in defense of our great nation," Kirby Hocutt, Director of the Texas Tech Athletics Department stated. "This game will be a great opportunity for Red Raider fans to show their admiration and respect for our veterans and active duty military personnel."
The college team will wear custom Under Armour "Lone Survivor" uniforms with the key phrase "Never Quit" written on the helmet.
Danielle Jones-Wesley contributed to this report.