MTV pulls the plug on reality show about people losing their virginity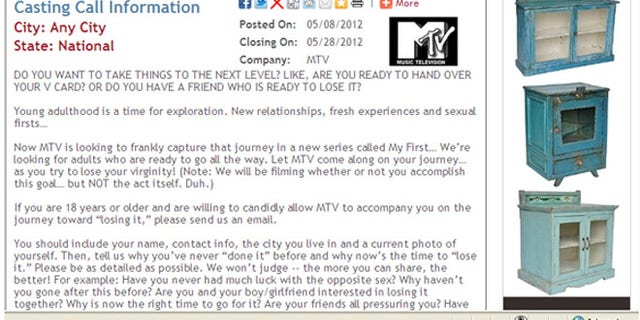 The network that brought us "Jersey Shore" and "Teen Mom" was prepping to lower the bar a little bit more, posting a casting notice this month seeking people 18 years or older who would "candidly allow MTV to accompany you on the journey toward 'losing it'."
And by "it" they meant "your virginity."
"Do you want to take things to the next level? Like, are you ready to hand over your V card? Or do you have a friend who is ready to lose it? Young adulthood is a time for exploration. New relationships, fresh experiences and sexual firsts," read the casting notice. "Now MTV is looking to frankly capture that journey in a new series called My First. We're looking for adults who are ready to go all the way. Let MTV come along on your journey… as you try to lose your virginity!"
The network went on to note that they would not "film the act itself. Duh." They also said they would be filming regardless of whether one went through with the deed.
HOT SHOTS: Sexy stars wow in France.
[pullquote]
Not surprisingly, the fame-for-sex casting call was met with outrage across the webosphere with many tweeting things like, "just when I thought MTV couldn't stoop lower than 'Jersey Shore,' and 'one more reason I am glad we canceled our cable a year ago.' It even caught the eye of actress Patricia Heaton, who called it "so incredibly depressing."
However, it seems the negative response prompted the folks at MTV to quickly squash the project. We noticed that although the casting notice wasn't due to close for applications until May 28, it had already been disabled.
"This was a preliminary casting notice, and we're not moving forward with a pilot," a rep from the network told FOX411's Pop Tarts column.
But the mere notion that fifteen minutes of fame and a fat paycheck was being advertised in exchange for "trying" to lose your virginity is pretty hard for many parents and media experts to stomach.
"Viacom, which owns MTV as well as BET, Nickelodeon and more, should be ashamed that its company is pandering to the gutter," said Dan Gainor, VP at the Media Research Center. "This is part of the media attempt to mock people who have morals and to treat virginity like a disease that must be cured. Network programmers won't be satisfied until they are able to hold live gladiatorial combat on air with the audience voting on whether the loser gets to live."
According to Nicole Clark, author and director of the documentary "Cover Girl Culture," MTV will simply do anything to lure audiences.
"Adults know how strongly girls/boys desire attention and recognition. Offering fame to girls willing to lose their virginity is only going to encourage girls to participate, without considering the repercussions to their future or mental health," she said. "It's irresponsible."