MTV Looks to Move On From Taylor Swift, Kanye West Incident at VMAs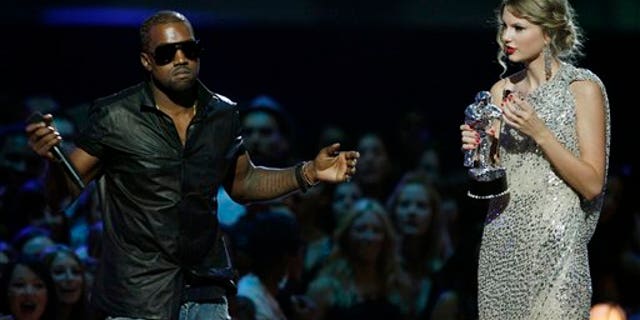 Don't expect a duet between Kanye West and Taylor Swift at the MTV Video Music Awards.
Jesse Ignjatovic, the executive producer of Sunday's show, flatly declared there's no chance of the pair reuniting in song a year after West interrupted Swift's acceptance speech for best female video to proclaim that Beyonce should have instead won the prize. Ignjatovic hopes that West, who's slated to perform, won't be interrupting anyone this time.
"The beautiful thing about Kanye is he's not one to repeat himself," said Ignjatovic.
The outspoken rapper took to his Twitter account last week to again apologize for last year's on-air fiasco, acknowledging that he was wrong for lunging on stage at Radio City Music Hall and grabbing the microphone away from then-teen country crooner Swift, who's again nominated for best female video but isn't confirmed to attend this year's show.
"I am getting the feeling from him and his tweets over the last couple of days that he wants to get rid of that," said bawdy late-night host Chelsea Handler, who is hosting the ceremony for the first time. "That is a good place for him to be. He should move on, so he can have something else to talk about."
West, who is readying his next album, has kept a lower profile since the incident and subsequent public backlash. His moment in the spotlight Sunday could provide the perfect opportunity to seek redemption from MTV viewers. In his series of tweets last week, he revealed that he wrote a song for Swift, and "if she won't take it, then I'll perform it for her."
"I hope that we move on from it," said Ignjatovic. "It feels like it's time. It was a year ago."
Producers have made no accommodations for a potential West ambush with this year's stage, a space-age paradise inspired by mid-century modern architecture that's almost completely open to the crowd. The sweeping stage design, dreamed up by German designer Florian Wieder, required about 2,000 orchestra seats to be removed from the Nokia Theatre.
"It's very accessible," said Ignjatovic while peering at the set from the audience.
Videos of nominees will blast on two giant screens enveloping the theater, as well as a massive rotating billboard rising up from a smaller oval stage. Deadmau5, the show's house disc jockey, will perform from his trademark cube booth hoisted above the crowd. He'll be joined by the likes of Robyn, Travie McCoy and Jason Derulo on a nearby curvy catwalk.
"When the audience sees it for the first time, it's going to look like no other show they've ever seen," said MTV general manager Stephen Friedman. "I promise you that. Our team has transformed it. I've never seen a set quite like this in the history of the VMAs. The way that it's configured enabled us to mold it to exactly the way we wanted it."
Lady Gaga leads this year's nominees with 13 nods behind the eight nominations for Eminem, who will open the ceremony. Other acts scheduled to perform include Drake, Mary J. Blige, Swizz Beatz, Bruno Mars, Florence and the Machine, Usher, Paramore, Linkin Park, B.o.B. and Justin Bieber, the teen sensation who is set to take his routine outside the theater.
Ultimately, as with all VMAs, spectacle trumps substance. This is the show where Madonna swapped spit with Britney Spears, and Eminem fought a puppet. Whether an invitation to attend this year's festivities is accepted by Swift or not, all eyes will certainly be on West. If he's on his best behavior, what will everyone be talking about the next day?
"In a million years, we couldn't have predicted it last year," said Friedman. "I think this year's the same. We'll have the guys from 'Jackass,' the cast from 'Glee' and some of the 'True Blood' cast there. I don't know. What we try to do is bring the most entertaining talent and artists together, and that brew always creates fascinating moments for us."